5 Reasons Why You Should Carry Retail Coffee Bags in Your Cafe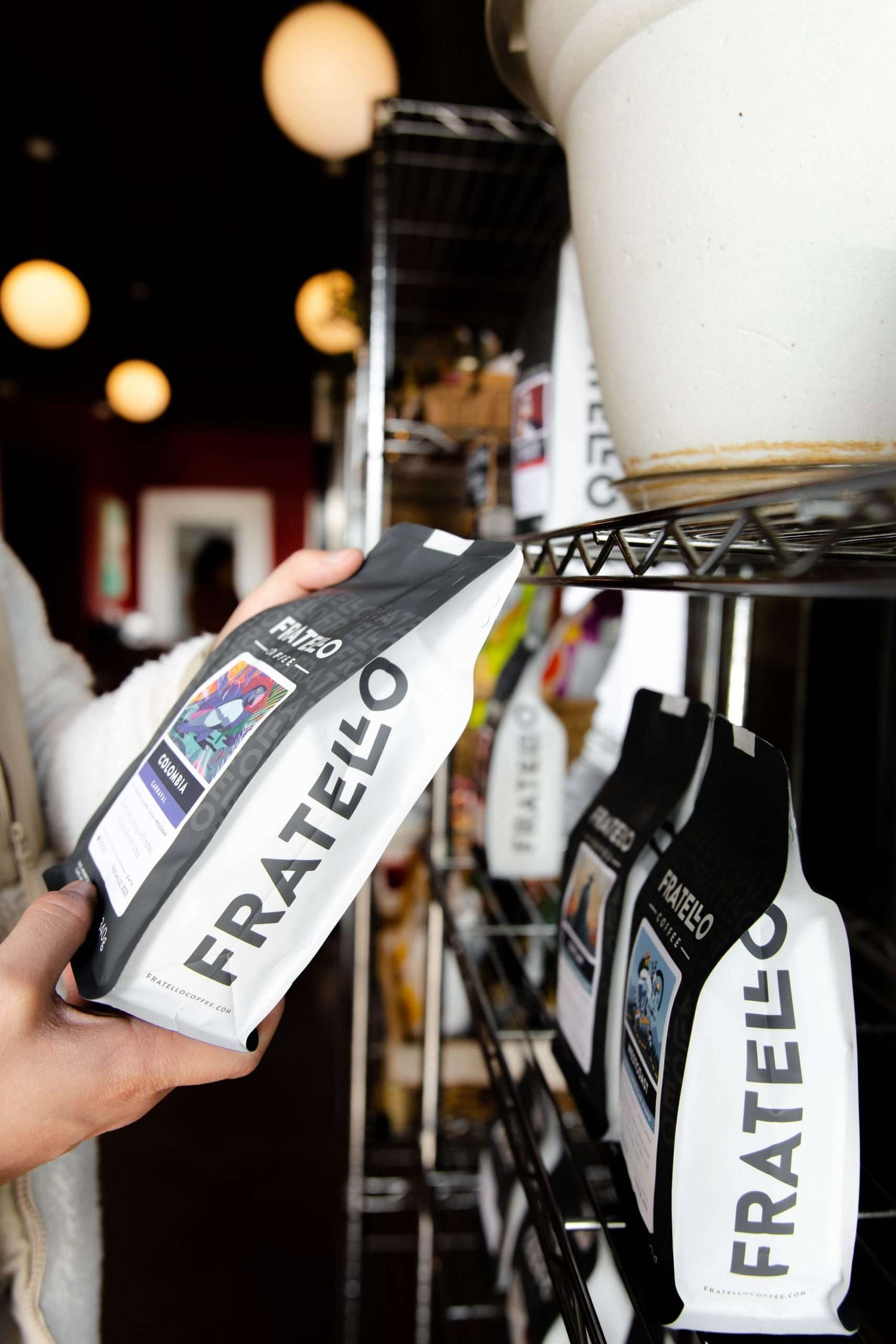 If you're not already selling retail coffee in your coffee shop, there are lots of great reasons to start. Fresh retail coffee bags are the perfect item to fill your shelves with. Offering them increases your average transaction to your current clients, and helps that customer who just remembered they're down to their last few beans at home.
If you haven't been offering retail coffee bags, it can be a little daunting to start. You might stop short of offering retail coffee bags at your shop for fear that people will stop coming to you for drinks. In fact, the opposite is true. Going out for coffee and making coffee at home both have their own allure. Customers will continue to want both experiences.
You might also worry that the inventory won't move, and the beans will go stale on the shelf. The reality is that you can make a lot more business if you sell retail coffee bags–if you do it right.
Irish barista champion and industry veteran Colin Harmon talks about this in his book What I Know About Running Coffee Shops. He encourages coffee professionals to think about the retail shelf as passive income. Harmon is famous for touting a full, plentiful retail shelf, complete with coffee gear, merch, and of course, retail coffee bags. He's even famous for training his staff to immediately refill the retail shelf as soon as a customer buys something.
The look of abundance can have a profound psychological effect on customers and make them want to buy. You'll be surprised at how much it can increase your café's revenue.
In this article, we'll go over our top five reasons to put retail coffee bags on your shelf and address common objections. But first, let's talk about the logistics of retail coffee.
How do I find a good coffee roaster?
When looking to offer high-quality retail coffee in your shop, it's important to look for a local roaster with good sourcing standards. The roasters should have a direct trade relationship with their producers and pay them what their work is worth. If not, they should be able to prove that there's an ethical supply chain that ensures the well-being of their producers.
Dedication to good farming and processing practises should also be high-up on your priorities.

What type of coffee should I offer?
Figure out what audience you're serving. Are they the type of drinkers who don't know much about coffee, but prefer specialty coffee to grocery store coffee? Offer a great blend. Our Godfather Espresso is a total crowd pleaser with milk chocolate and caramel notes. It's a medium roast, perfect for espresso drinks, drip coffee, and pour over style coffee.
Maybe you have a more coffee-aware audience with decent coffee knowledge. Do they order straight espresso or drink their Americanos black? In this case, offer single origin beans. Here are our latest offerings.
If your audience is a mix of both types of customers, you can offer blends and origins.
Now that you understand the "how," it's time to explore the "why." Without further ado, here are our top 5 reasons why you should offer retail coffee at your coffee shop.
5 reasons to fill your shelf with retail coffee bags
1) It makes it easy for people to drink great coffee.
People tend to not be very on-top of their coffee game. They generally do their grocery shopping at the supermarket, which doesn't always have the best coffee options. They either settle for mediocre coffee, or they don't buy it at all. When they step into your shop and see specialty coffee on your retail shelf, you'll be a life-saver to them.
2) It helps support the local economy.
Supporting local specialty coffee roasters is a great way to support the local economy. One of the best ways to do that is to offer coffee from local roasters on your retail shelf. When you support local companies, you're putting money back into your community. Your money maintains local infrastructure and supports programs, reduces transportation emissions, and keeps your neighbours employed.
3) 'Tis the season for gift giving.
This time of year, people are already in preparation for the holiday season. Your customers may not have been in gift shopping mode when they entered your cafe. Offering high-quality retail coffee makes it easy for them.
Coffee is the perfect gift because it's inexpensive, yet high-quality. If you're afraid that your customers won't buy them until closer to Christmas, think again. Lots of people send early Christmas gifts, mailing packages to friends and family all over the world. It's not too early to start stocking your shelves with retail coffee.
4) People are making coffee at home more than ever.
Thanks to the pandemic, many people's jobs have become remote, and many are working from home. As a result, more people are making their coffee at home as opposed to grabbing it on the way to work. People are still going out for coffee, but it's more often to catch up with friends or as a weekend excursion. Offering retail coffee helps people make delicious coffee from the comfort of their own homes.
The average consumer in Canada consumes 1 x 12oz bag of coffee per week at their home. This will really begin to add up over time as you create new purchasing habits with your customers.
5) It can drastically increase your revenue.
According to the aforementioned Colin Harmon, offering retail coffee bags can increase your revenue by 10-30%.
Do you ever stop and wonder why you always see cases of soda pop piled high near the grocery checkout? That's because people are attracted to the look of abundance. According to American psychologist Barry Schwartz, plentiful retail displays can make us feel optimistic and happy. On the other hand, scarcity can make us feel defensive and frugal. If there were only one case of pop left on the shelf, it would make us feel guilty about taking the last one.
Retail displays that employ abundance perform much better than scare, dwindling displays. We encourage our customers to stock as much of their cafes inventory of coffee in the front of their cafes as possible. You will be surprised at how many larger bags you will sell as well.
What happens if people don't buy the coffee bags?
You might be afraid to offer retail beans for fear that they'll go stale on the shelf. After all, roasted beans only have a shelf life of 2-4 weeks from the roast date. But don't let this stop you.
You can always brew the coffee in your coffee shop if it's not selling. Toss the beans into your espresso grinder hopper or brew it as drip before it goes stale. Alternatively, you can discount the bags to make them sell faster.
You might have trouble selling the retail coffee at first. But if you're employing abundance and moving your inventory, it won't be long before the beans start flying off the shelf.
What else can I offer on my retail shelf?
You can also offer teas from our Idle Tea collection. Our tea line includes favourites like green tea, herbal tisanes, and black teas like Earl Grey, Assam, and chai. We also offer ceremonial-grade matcha powder and alternative lattes powder, like beetroot, turmeric, and rooibos matcha.
This will be delightful for the tea drinkers who visit you. Very few cafe owners put much attention into this demographic, and like coffee drinkers, they like to brew high quality beverages at home.
Beans aplenty
Though it may sound counterintuitive to stock your retail shelf with coffee bags, especially if your business isn't thriving, you'll be surprised at what it does for your revenue. Of course, every market is different, and this might not work for every business. But how can you rule it out until you give it a shot?
Stick a nice percentage on your revenue, make holiday gift shopping easier, and be the lifesaver for that person who just ran out of coffee. Win, win, win.
Looking to sell retail coffee and tea at your coffee shop? Get in touch with us by dropping us a line at info@fratellocoffee.com. We'd love to fill your retail shelves!