Health Benefits of Turmeric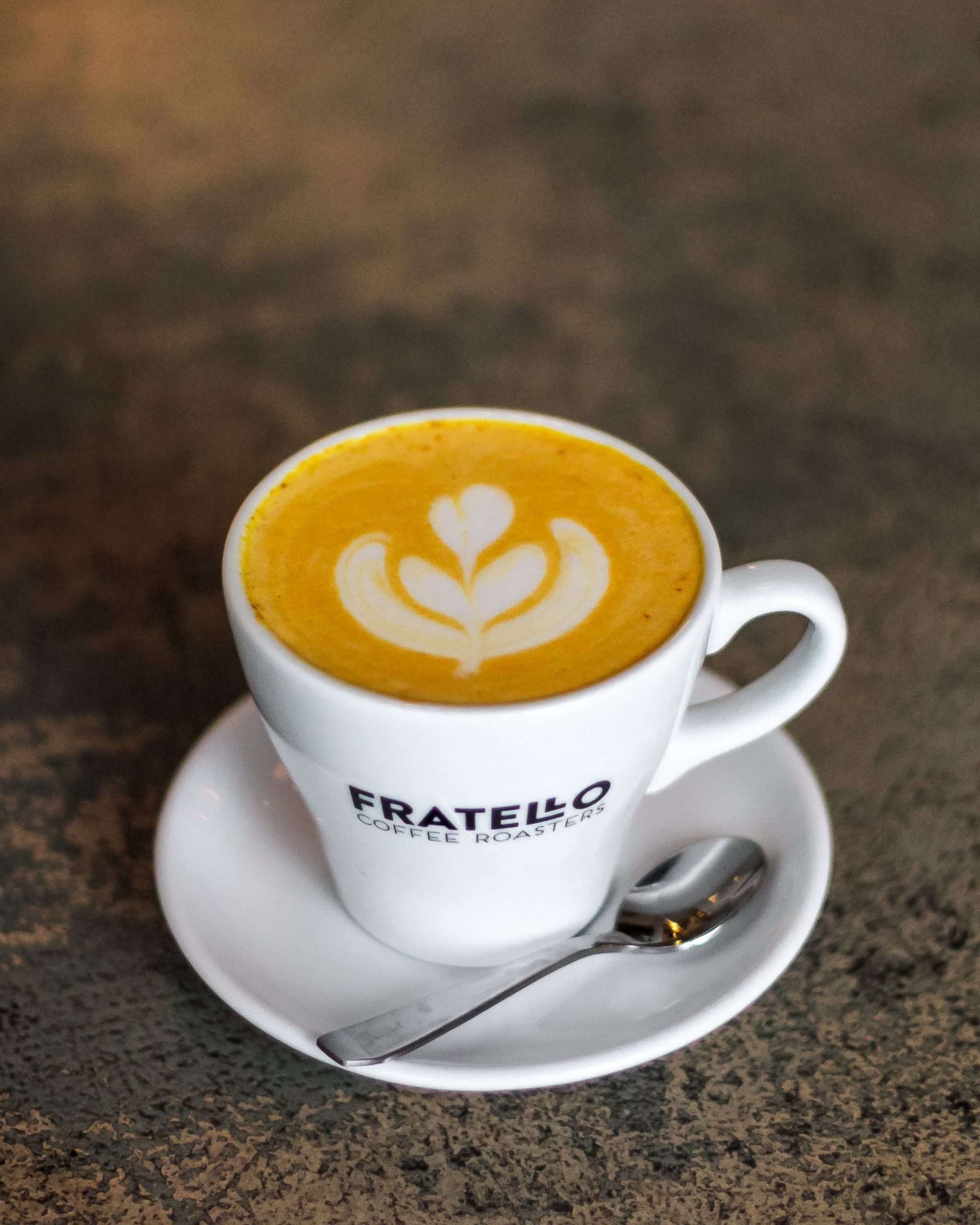 We all know turmeric as that vibrant golden-yellow spice used in curry dishes. But did you know that turmeric is loaded with health benefits? Turmeric contains antioxidants that fend off diseases, slow the aging process, and reduce inflammation. Best of all, it makes a delicious herbal tea. We dive deeper into the health benefits of turmeric in our blog post below.
Let's face it: sometimes we have to go off coffee for a while. If you overdo it, coffee and caffeine in general can be addictive and lead to withdrawal and headaches. For some, it can also cause heartburn and jitters if you're drinking multiple cups a day. If you need to lay off coffee for a while, our Idle Golden Turmeric Latte powder could be the fix for you. Just mix it up in some hot milk or a non-dairy alternative, and you'll have a perfectly sweet and savoury warm bevvy.
Let's take a quick look at the main ingredient of our herbal tea blend: turmeric.
Turmeric health benefits
Turmeric contains high levels of antioxidants. Antioxidants are naturally occurring substances found in plants that reduce oxidative stress in the human body. Oxidative stress leads to cell damage, and over time, cell damage in our bodies can lead to disease. Oxidation is caused by free radicals that roam around our bodies. Antioxidants neutralize these free radicals, halting the oxidation process.
If you live in the big city, trying to get antioxidant rich foods in your diet is a great idea. Big cities expose us to poor air quality, as we walk past traffic-dense areas and inhale second-hand tobacco smoke. Poor air quality is one of the biggest causes of oxidative stress. You can combat it, in part, by eating antioxidant rich foods.

Curcumin
The active ingredient in turmeric is a powerful antioxidant called curcumin. This particular antioxidant is an anti-inflammatory. While inflammation in the body is a natural occurrence, it's chronic inflammation that we want to avoid. When we get an infection or we're hurt, inflammation kicks in to speed up the healing process. Chronic inflammation, on the other hand, causes a number of diseases over time. It can lead to heart disease, cancer, Alzheimer's disease, and regenerative conditions.
Health experts are particularly interested in the effects of turmeric on cancer patients. Early trials show that curcumin contributes to cancer cell death, reduced growth of blood vessels in tumors, and reduced metastasis (spread). While studies are still underway, there is evidence that curcumin neutralizes free radicals that cause cancer.
Curcumin may also promote brain health and reduce depression. It is shown to improve the levels of BDNF, a protein that repairs and regenerates neurons in the brain.
There is evidence that black pepper may enhance and activate the powerful antioxidants in turmeric. Black pepper contains the natural compound piperine, which itself has powerful anti-inflammatory properties.
Do cinnamon and ginger have health benefits, too?
Our Idle Golden Turmeric Latte powder also contains two other antioxidant rich spices: ginger and cinnamon.
Ginger contains a natural oil called gingerol, a known antioxidant with anti-inflammatory properties. In addition, ginger is known to help with tummy trouble, in particular indigestion, nausea, and intestinal inflammation. Ginger happens to be in the same plant family as turmeric, which may explain why the flavours complement each other.
Cinnamon also contains antioxidants in the form of polyphenols, which perform similarly to curcumin and gingerol. In addition, cinnamon contains the natural compound cinnamaldehyde, which may fight bacterial and fungal infections. It not only provides a delicious flavour, but it also provides sweetness without any added sugar.
This leads us to the final ingredient on the list: coconut sugar.
Is coconut sugar healthier than table sugar?
While coconut sugar has the same amount of calories, it has a few benefits over table sugar. Coconut sugar is the dehydrated sap of coconut trees, making it a natural, unprocessed form of sugar.
It's also lower on the glycemic index than table sugar, meaning it won't spike your blood sugar like table sugar. It contains a fibre called inulin, which is responsible for keeping the blood
sugar low. This can be helpful for people with both types of diabetes. And, unlike table sugar, it contains iron, zinc, calcium and potassium. While coconut sugar has some benefits, it's still sugar after all, so don't go overboard with it.
In a nutshell
Here are your health benefits in one neat package. Turmeric contains a powerful antioxidant that reduces inflammation, slowing the aging process and preventing disease. Ginger offers antioxidants too, and maintains a healthy gut. Cinnamon also contains antioxidants, it can help us fight chest infections, and it provides sweetness without any added sugar. Coconut sugar is a natural alternative to table sugar, and it won't spike blood sugars as high as regular sugar.
What are some other antioxidant rich foods?
Other antioxidant rich foods that fight free radicals include blueberries, raspberries, and strawberries. You can also find them in dark leafy greens, such as spinach, kale, and broccoli. If you're looking for another antioxidant rich beverage, try out our Idle Matcha Tea Powder.

How do I make a golden milk latte?
Place 1 teaspoon of the Idle Golden Turmeric Latte powder in a mug, followed by 30 ml of water. Stir it together to make a syrup, and set aside. Heat 200 mL of milk or a non-dairy alternative to 160 degrees F (hot, but not boiling). Stir the hot milk into the syrup, and mix well. Sprinkle some more of the powder on top for garnish, and enjoy.

What are some other uses for this powder?
Our Idle Golden Turmeric Latte powder can be used in hot and cold beverages. You can easily ice your golden turmeric latte by pouring cold milk into the syrup instead. The powder dissolves well in frozen smoothies as well.
You can also use the powder as a health boost to baked goods. Just place a teaspoon of the powder into shortbread cookie dough, muffin batter and pancake batter, for a beautiful, golden hue.
Want to learn more about antioxidants and how they can benefit you? Check out our blog post about the benefits of matcha powder.