Nicaragua Coffee Sourcing Trip 2014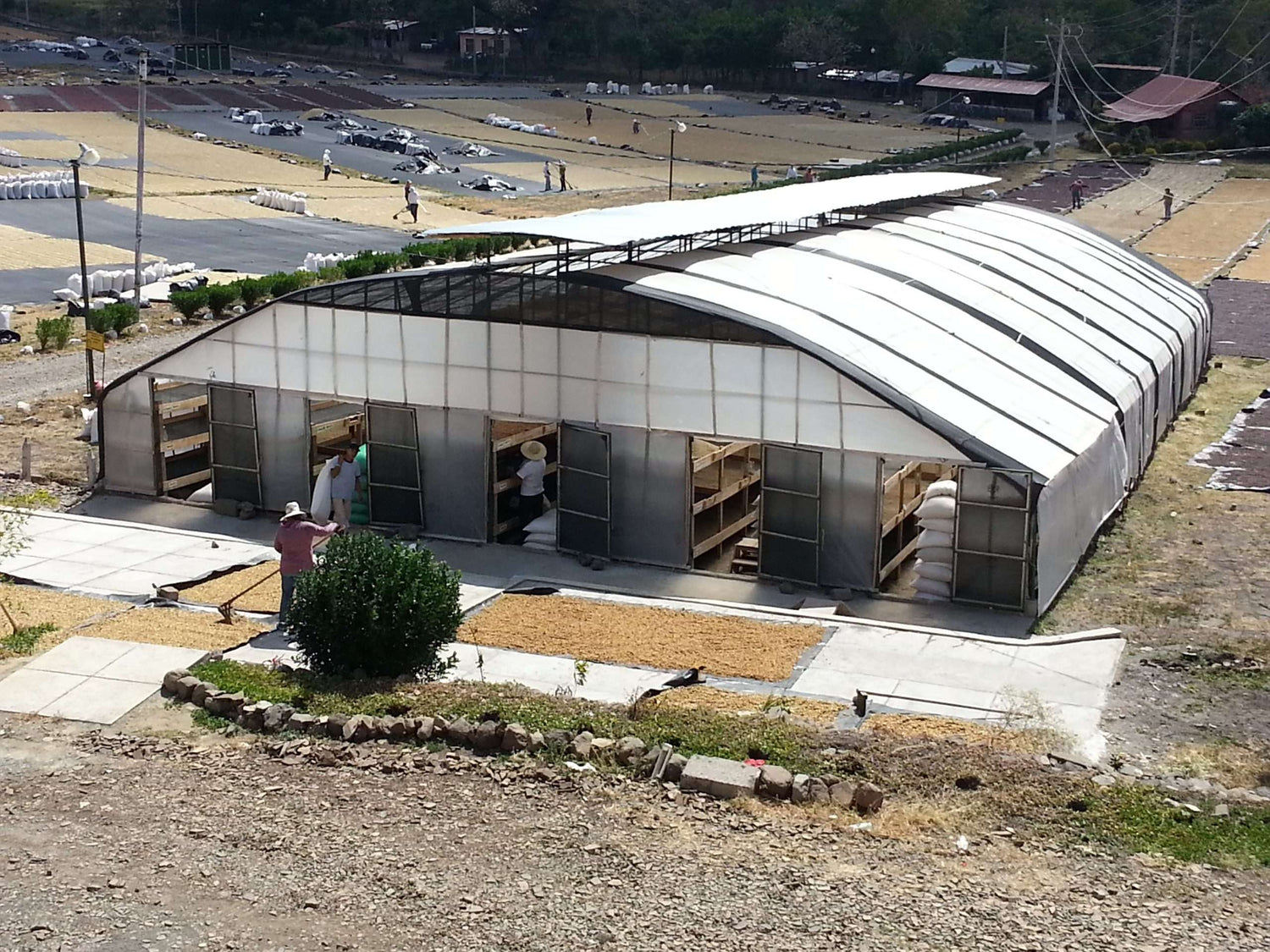 We recently returned from a trip to Nicaragua where I got to meet some new producers and taste some amazing coffee from them and some of the producers that we have been working with for years. This really seems like a great year for quality from Nicaragua. One of the major differences between this trip and previous trips to Nicaragua was the drying techniques that are now popping up around the country. We saw multiple producers using raised African beds and parabolic dryers to dry their product. The goal was to slow the drying process down to increase quality and consistency.
We arrived in Managua and was picked up and driven to the Ocotal region where we visited with Fransisco from Virmax, this is only the second year they have been working in Nicaragua so they were still setting up a lot of their systems. Regardless, they had a very impressive 6000 sq ft African Raised bed drying area with 80 % shade tarps over most of it, and one area with 100% shade tarps over it that they were experimenting with. Unfortunately we did not get to try anything from the 100% shade one because it had only gone up a couple days before we arrived but we did get to cup some coffees from their other beds and was very impressed with the quality and consistency of the coffee. One of the most noticeable differences between these drying beds and others that we have seen is how they were moving the coffee, everythingwas turned by hand, every hour, so that it would dry consistently and the parchment protecting the bean was not getting broken due to rakes or other tools as seen in most other drying areas.
After leaving the Ocotal region we traveled to Matagalpa to visit our friends, the Mierisch family and visit their Beneficio, Don Esteban. This was another mill that had recently improved their drying techniques. They had a brand new and very impressive parabolic dryer, which is basically a giant greenhouse with multiple raised beds used to dry the coffee. The coffee starts drying on the top row of the beds which is where the heat is most intense and then as it dries the coffee moves to lower layers closer to the ground. The entire drying process takes 10-12 days which lets it the coffee slowly and evenly dry, which creates more consistency in the cup. We will be getting a couple amazing lots from this mill including a San Jose Java Natural and my personal favorite a Limoncillo Java Pulp Natural.
The coffee coming from Nicaragua this year has shown a vast improvement, due to in no small part the increased care of the drying process. I can honestly say I have never been this excited about any coffee from Nicaragua before, this is truly amazing coffee and I think you will agree.
Written by David Schindel, Head Roaster