Idle Tea Spiced Chai Latte : Our Family Recipe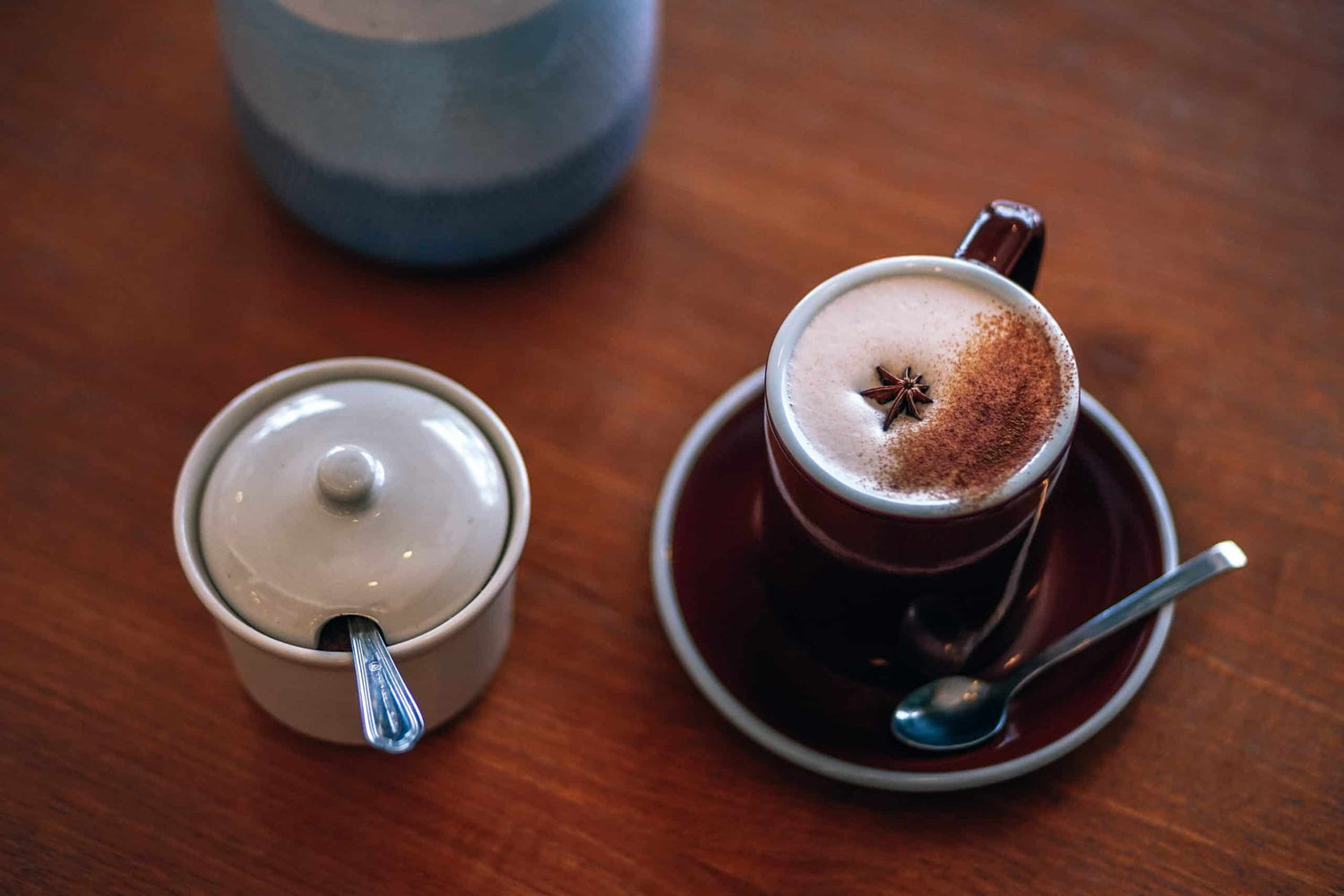 A Spiced Chai latte is the perfect warm tea drink for this time of year when the temperature starts to drop. With its warm spice blend of cardamom, ginger, peppercorn, cinnamon, and other spices, chai lattes are a fall and winter favourite.
Masala chai tea has been around for millennia. While the recipe that's loved and enjoyed today is a little different, the foundation remains the same. Black tea, an array of warm spices, and a sweetener are still the building blocks.
As a coffee shop, it's essential that you carry a good quality chai blend, something that's easy to make and delicious. Our Idle Tea Chai Latte concentrate makes a perfectly sweet, aromatic chai latte.
Let's take a look at the origin of masala chai, what makes our blend so special, and how to prepare it using our blend. Then, we'll finish off with a few fun variations on the chai latte.
Where did chai originate?
Chai originated in India somewhere between 5000-9000 years ago. Indian royalty figures drank chai, both for medicinal purposes and as a delicacy. Closer to the 19th century, it became a drink that royals and commoners alike could enjoy.
Traditionally, the Indian chai recipe is prepared by steeping black tea and whole spices in hot milk, and sweetening it with sugar or honey. The spices include (but are not limited to) cardamom, cinnamon, whole peppercorn, ginger, and aniseed.
In Indian, the word "chai" actually means "tea." The term "masala chai" refers to the chai that we know and love, with "masala" denoting the spice blend.
Chai culture is still hugely popular in India, and is made at home in large kettles and enjoyed in a celebratory context. It's also popular on the streets, and street vendors, called "chai wallahs," make hot masala chai on demand.
Chai lattes as we know them in North America are prepared much differently, though the ingredients remain the same. Milk, black tea, a warm spice blend, and some form of sweetener are crucial for a perfect chai latte.
For more content about tea origins, check out our previous blog post about matcha green tea powder.
What makes the Idle Tea Spiced Chai Mix special?
Our Idle Tea Spiced Chai Mix aims to replicate the authentic recipe as closely as possible. Our blend brews black assam tea with an array of warm signature spices. Those spices include Guatemalan cardamom, Asian ginger, Indonesian cinnamon, Madagascar cloves and Indonesian Lampong black peppercorn. Once the tea and spices have been steeped, we add just the right amount of beetroot sugar for the perfect sweetness.
The chai latte blend is a liquid blend that is conveniently brewed already, with the perfect level of sweetness and spice. All you have to do is combine it with milk in a pitcher, steam it, and top it with some cinnamon or nutmeg.
Our chai latte blend is the same recipe that we developed in the early 2000's, over 20 years ago when we started making our own line of chai, syrups and smoothies. It used to be called Flavors of Eden, followed by Valleta Flavors. But now it's under the Idle Tea line, and it now comes in a recyclable bottle. It's the same great blend with a new look and label.

How to make a chai latte
Our chai latte blend makes it incredibly easy to make the perfect chai latte. Pour 1 part Idle Tea Spiced Chai Mix into a pitcher, followed by two parts milk or a non-dairy substitute. Steam it in the pitcher until it reaches 140 degrees F. Pour it into a cup and top with cinnamon or nutmeg. The same ratio can also be served cold over ice.
If you want to serve our chai latte concentrate for your coffee shop, reach out to us at info@fratellocoffee.com.
Chai latte variations
The flavours of masala chai pair wonderfully with other flavours, so you're not just limited to chai lattes alone. Here are 3 popular takes on the classic drink.
Dirty chai latte
A dirty chai latte is simply a chai latte with an espresso shot added. With familiar warm spices like ginger, cardamom, and cinnamon, it's almost reminiscent of a gingerbread latte or a pumpkin spice latte.
To make it, just steam the correct ratio of milk and chai mix until it reaches 140 degrees F. Then, pull an espresso shot into a cup. Pour the steamed chai over the espresso shot, and top with cinnamon or nutmeg.
Chai apple cider
Apple cider beautifully complements the flavours of cinnamon, ginger, and cardamom.
Simply pour 2 parts apple cider with 1 part Idle Tea Spiced Chai Mix into a pitcher, and steam until it reaches 140 degrees F. Pour into a cup, and top with cinnamon.
Chai hot chocolate
The chai hot chocolate is an experience similar to a spicy hot chocolate. The ginger and black peppercorn add a spicy, zesty kick.
To make it, pour 1 tbsp of chocolate syrup into a cup. Into a metal milk pitcher, pour one part Idle Tea Spiced Chai Mix and 2 parts milk or non-dairy alternative. Steam it until it reaches 140 degrees F. Pour a small amount over the chocolate syrup, mixing well. Then, pour in the rest of the steamed chai. Top with nutmeg.
Warm, spicy, and irresistable
There's nothing more comforting and warming than a chai latte with a dash of cinnamon on top. It's the quintessential cozy drink, perfect for the colder fall and winter months.
Make sure to seize the opportunity and offer this incredibly popular drink to your customers. It's easy and quick to make, it makes for a perfectly balanced drink, and best of all, it'll keep your line moving while keeping your customers in good spirits. Happy chai season!
Need the perfect chai latte blend for your coffee shop? Drop us a line at info@fratellocoffee.com.