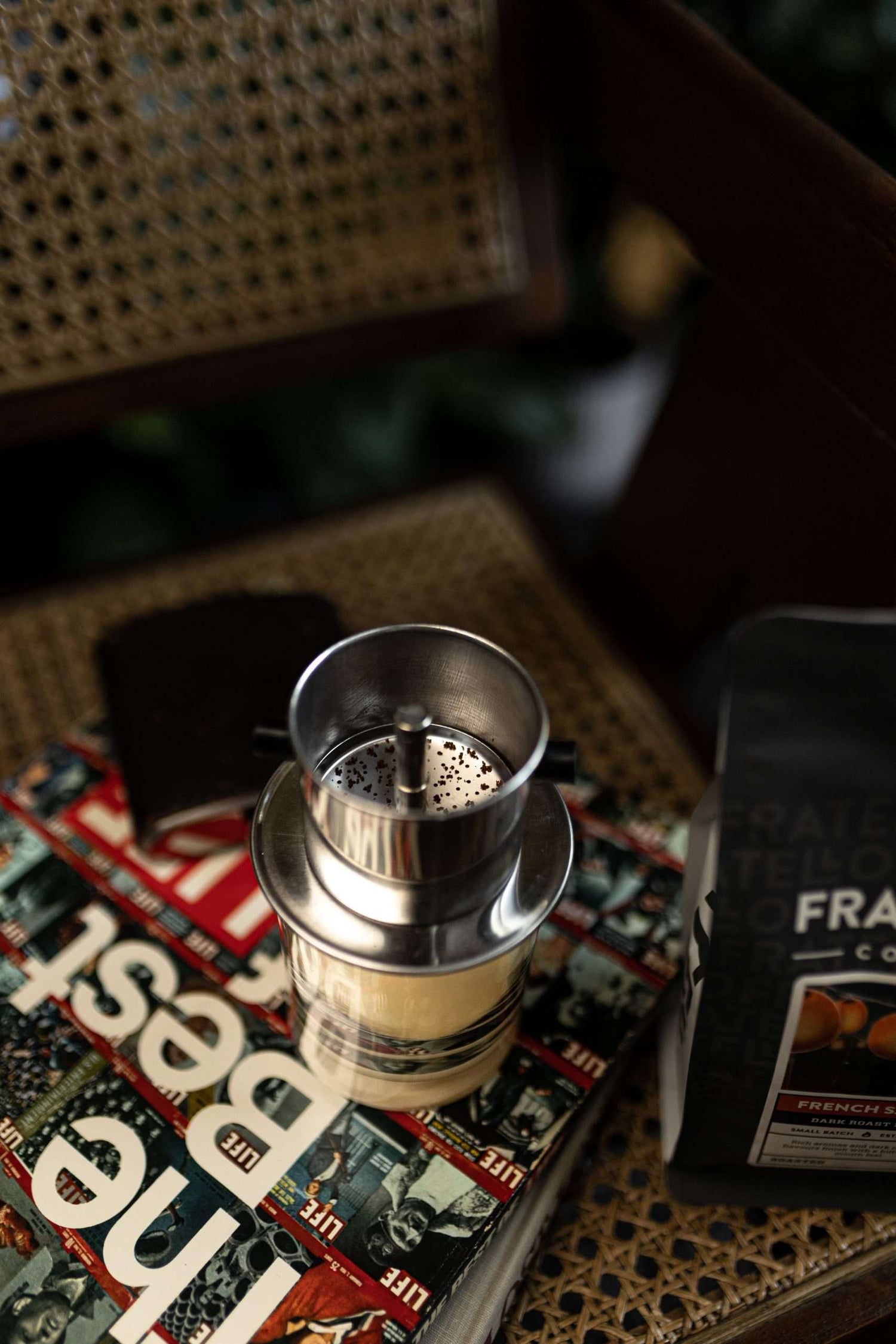 Iced Vietnamese Coffee featuring our French Saigon Dark
There's no treat more elegant than Vietnamese coffee. Strong coffee is brewed directly over sweetened condensed milk, stirred, and poured over ice in a rocks glass. It's a small but mighty pick-me-up that's at once indulgent and sophisticated.
It's time to dust off this classic coffee recipe–we're bringing it back! For Vietnamese coffee, you'll want to use a full-bodied dark roast. We recommend our French Saigon Dark blend. Its full-bodied smoothness and dark chocolate notes compliment the sweetened condensed milk perfectly. It's our oldest blend, pioneered in 1985 specifically for iced Vietnamese Coffee, and it remains one of our bestsellers to this day.
Iced Vietnamese coffee history
Coffee was first introduced to Vietnam in 1857 by French settlers. Since then, Vietnam has taken off as a major coffee producer, and today is responsible for 20% of the world's coffee production. Coffee culture is massive in Vietnam now, and ca fe sua da (which translates to coffee with milk and ice) is a common order at coffee houses.
Because fresh dairy is not readily available in Vietnam, canned sweetened condensed milk has increased in popularity due to its long shelf life and easy transportation.
Traditionally, Vietnamese coffee is made with a coffee brewing tool called a phin, a metal contraption with several filters. This ensures a slow brew time and a strong coffee.
Make sure to get a head start on the warm weather by perfecting your Vietnamese coffee game. Before long, everyone will want one!
How to make Vietnamese coffee using a phin (single serving):
Measure a heaped tablespoon of sweetened condensed milk into a glass. Set aside. Weigh 20 grams of Fratello French Saigon Dark, and grind fine (as you would for an Aeropress). Boil water to 93-96 degrees C.
Place the filter plate over the glass containing the sweetened condensed milk. Place the brewing chamber on top of that, followed by the ground coffee. Then, drop the press filter (the piece with the handle) on top of the grinds.
Pour about 20 grams of hot water over top of the press filter to bloom the coffee grinds. Let it sit for 30 seconds.
Slowly, and in concentric circles, pour enough water into the chamber until you reach the top. Place the lid on top, and let the coffee slowly brew until it stops dripping.
When it stops dripping, set your phin aside, and stir the hot coffee with the sweetened condensed milk until well combined. Fill a rocks glass ¾ full of ice, and pour the coffee-milk mixture over the ice. Enjoy!
If you don't have a phin or you can't source one, you can simply sub out the phin for the Aeropress method instead. Pour a heaped tablespoon of sweetened condensed milk in a glass. Prepare an aeropress coffee, and plunge the coffee directly into the glass. Stir and pour over ice. If you want a frothier consistency, you can pour the coffee-milk mixture into a cocktail shaker full of ice, along with a splash of hot water. Shake for one minute, and pour into a tall glass with a metal or paper straw.