How to Make AeroPress Coffee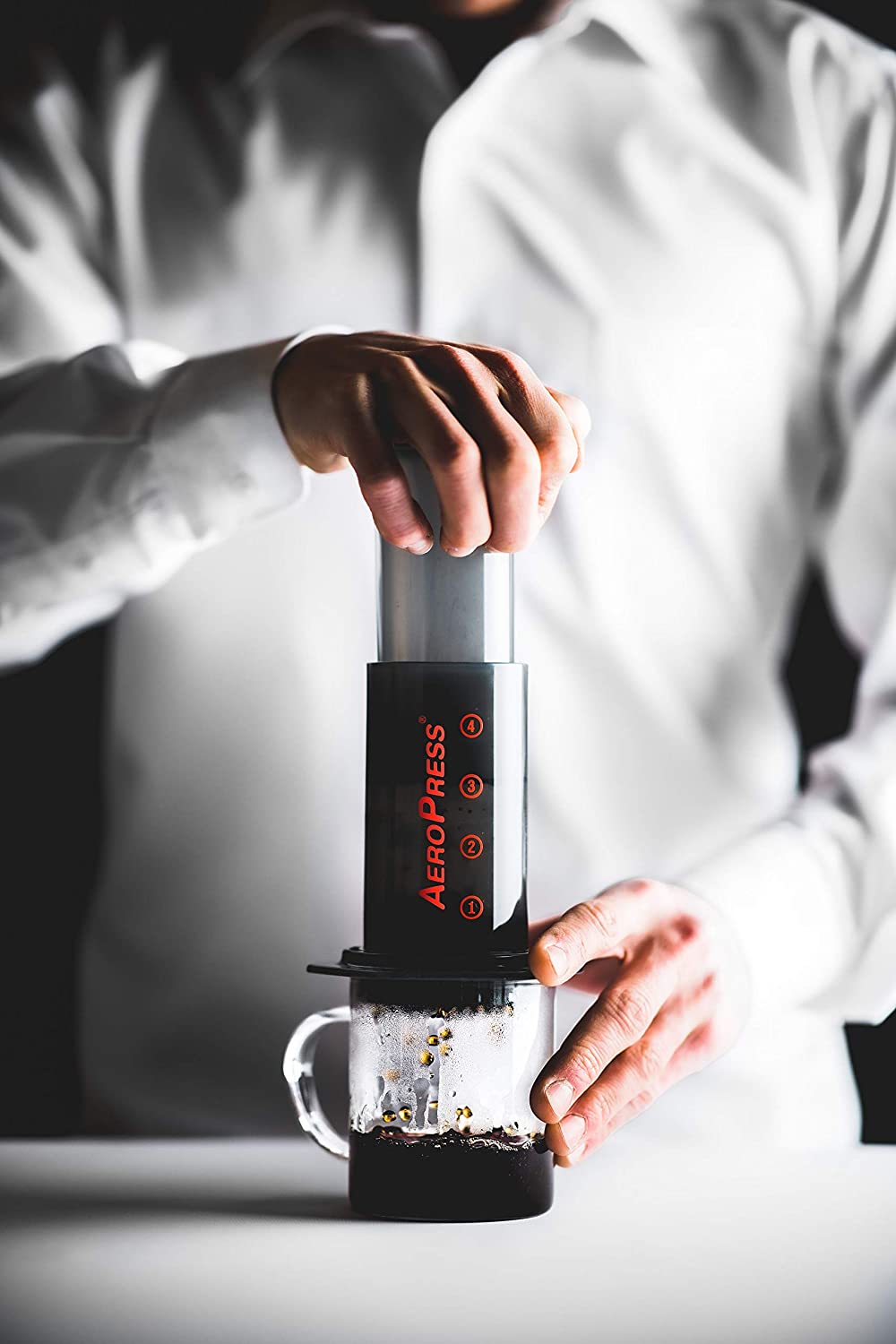 When you're craving a short, strong and delicious pick-me-up, look no further than the AeroPress. The AeroPress method is a favourite for coffee lovers because it does justice to specialty coffee with perfect, even extraction. If you're finding your morning coffee routine is taking too long or isn't tasting to your liking, consider adding this to your arsenal. Read the rest of this article to find out how you can make AeroPress coffee yourself.
AeroPress style coffee is so established and beloved that there are even barista world championships for the best AeroPress. But don't let that make you think it's too complicated for you to master. On the contrary, making a delicious AeroPress is easy! Follow our complete guide to making a perfect AeroPress for a delicious single cup.
What does an AeroPress coffee taste like?
The AeroPress makes a small, bold cup of coffee with lots of clarity (ie. no sludge or coffee grind particles). While it does have the element of immersion just like a French press, it doesn't have the same grittiness. In a way, it combines the best of a French press (immersion) and a pour over (clarity). The fine filter stops a lot of particles from passing through.
The brew ratio for an AeroPress is different from a standard pour over or drip coffee. While the ratio of a standard pour over is 1:16, the aeropress ratio is 1:13 (1 part coffee, 13 parts water). This makes for a strong tasting coffee.

What are the benefits of an AeroPress?
The AeroPress is a favourite for many reasons. It's a great travel accessory for the stubborn coffee connoisseur. It works well if you're staying in a hotel in another city where good coffee is scarce. It's also perfect as a low-tech method of making coffee while camping or day-hiking.
The AeroPress is known for being easy to transport. Because it's made of plastic, it's shatterproof, virtually indestructible, and lightweight. And because it's relatively small, it doesn't take up too much room in your bag.
It's made of BPA-free plastic, so you don't have to worry about plastic leaching from pouring hot water into the chamber. Generally, pouring hot (or even warm) water into plastic is not recommended as it can release harmful toxins.
After brewing, the AeroPress is easy to clean. Just hover over the organics bin and push the plunger until the spent coffee puck pops out. Then, rinse the outer part of the plunger to remove leftover grinds.
The biggest benefit of the AeropPress is that it makes a truly delicious cup of coffee, and fast. It's perfect if you're craving a small, strong, delicious cup.
Is the AeroPress for me?
If you were hoping to make a large amount of coffee for a group, the AeroPress might not be for you. While you can make multiple cups, it'll take some time, and everyone will have to wait their turn. For multi-serve options, check out the Chemex Classic 6 cup or the Hario Craft Coffee Maker.
If strong coffee isn't your jam, you might not enjoy the AeroPress method. The 1:13 brew ratio makes for a strong cup. You might want to choose a brew method with a weaker ratio, like the pour over method, which has a ratio of 1:16.

How to make the perfect AeroPress:
Brew ratio:
1:13 (1 part coffee, 13 parts water)
What you'll need:
Weight scale

Burr grinder (if you're travelling, we recommend the Hario Ceramic Octo Coffee Mill

)

17 grams of coffee

Kettle (preferably a

gooseneck

)

Hot water, 1 minute off the boil

AeroPress filter
Begin by boiling your water. By the time you're ready to brew, it should be about 60 seconds off the boil. For best results, use a gooseneck kettle, or pour your hot water into a heat-proof pitcher with a spout.

Grab a paper AeroPress filter, and place it in the screw-on filter. Place the filter over the sink, and gently pour a bit of boiling water over the filter. This rinses the paper filter, preventing a papery taste. Once the filter is rinsed, screw the filter cap onto the chamber, and place on top of your favourite mug.

Next, measure 17 grams of

Fratello coffee

. Grind your beans on the burr grinder on a medium-fine setting. The grind should be slightly finer than pour over. Place the grinds into the chamber, and give the chamber a firm tap to level out the coffee bed. Place the chamber on top of a mug, and place the mug on a weight scale. Set it to zero.
Pour 220 mL of hot water very quickly over the grinds. Using the stir stick provided, gently stir the slurry to make sure all the grinds are submerged. Place the plunger on top of the slurry, but don't plunge just yet. Placing the plunger just on top creates a vacuum so the water doesn't draw down all at once. Set a timer for 2 minutes.

After 2 minutes, begin your plunge. Slowly and gently plunge until you hear a hissing sound. Your AeroPress is ready. Enjoy.
AeroPress troubleshooting
If your AeroPress is tasting less than fantastic, here are some basic troubleshooting tips. You can't fix a cup that's already been brewed; just grind some new coffee, and start over. You only need 17 grams of coffee, after all!
Problems and solutions:
Problem: my coffee tastes bitter and too strong.

Solution: try again with a slightly coarser grind.
Problem: my coffee tastes sour and weak.

Solution: try again with a slightly finer grind.
Problem: my coffee tastes like cardboard.

Solution: try again and rinse the paper filter. Don't skip this step!
Problem: my coffee tastes weak and sour, even after tweaking the grind.

Solution: make sure to pour the water very quickly over the grinds, and hook the plunger into the top. If you pour too slowly, your coffee will begin to draw down prematurely. It won't have a chance to extract properly, giving it a sour taste.
Problem: my coffee has an unidentifiable "off" taste.

Solution: make sure to use high quality, potable water. If your water isn't great, you can always brew your coffee with bottled or distilled water.
Looking for more tips for brewing that perfect cup of coffee? Check out our article on why you really need a burr grinder!