How to Clean and Maintain Your Espresso Machine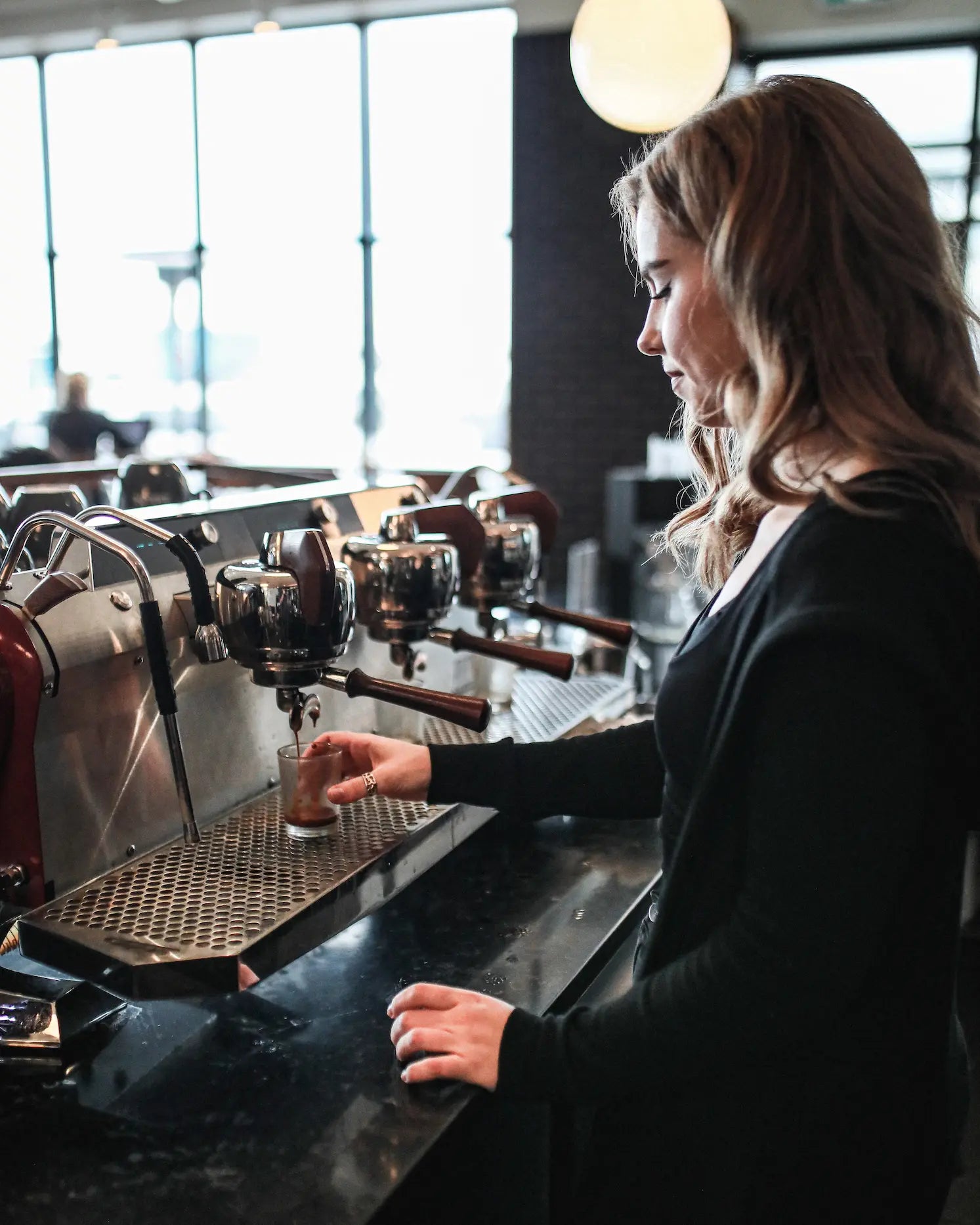 It may seem like a daunting task to have to clean your commercial espresso machine. With all those levers and buttons and knobs, it may look more like a fuse box than a coffee maker. But rest assured that cleaning your commercial coffee machine isn't much harder than cleaning your drip coffee maker! Read more for tips on how to maintain your espresso machine.
Sure, you can dig out your dusty old user manual, complete with typos and instructions that make so sense. Or, you can check out this easy guide on how to clean your espresso machine. We'll go over how to clean an espresso portafilter, what is backflushing an espresso machine, and how to descale an espresso machine.
What happens if I don't clean my espresso machine?
If you don't clean your espresso machine, you risk crappy tasting coffee, bacterial build-up, and the function of your machine. While you're using your espresso machine throughout the day, espresso grinds, coffee oil, and mineral scale from water intake build up throughout the day.

A lot of things can go wrong if you don't clean your espresso machine, or don't clean it properly.
For one, your coffee will taste stale or "off." If you're brewing espresso from a brew head with day-old grinds, through a dirty portafilter, you'll taste yesterday's coffee. Not exactly what you're going for! When exposed to air, moisture, light, and heat, coffee oils go rancid quickly.
Not only that, but you also run the risk of attracting pests. Stray coffee grounds are food to cockroaches, and they can attract mice and rats if you're not careful. Restaurants and cafes are particularly susceptible to pests. Make sure all surfaces are wiped of coffee beans and grounds, and don't give pests a reason to stick around.
In general, having a visibly dirty espresso machine could make customers think twice about ordering coffee off of you.
How to descale an espresso machine
Part of cleaning your espresso machine is descaling. Descaling your machine cleans it, but it also removes mineral buildup in the hot water tanks. If mineral buildup goes unchecked, it can affect water flow and pressure in your machine. This, in turn, will affect the flavour of your espresso. Excess mineral build-up will require a professional to remove, and can even cause your machine to call it quits altogether.
How often do I need to clean my espresso machine?
To maintain your machine properly and have great tasting espresso at all times, clean your machine at least once a day, at the end of the business day.
We've broken down the cleaning tasks by espresso machine part.
The portafilters (the filters that screw into the group heads with handles) need to be cleaned spotlessly. Soak them in hot water and dish soap to loosen stuck-on grounds and oil. If you're worried about a soapy flavour, you can soak them in hot water and Puro Caff. After they've soaked for 10-15 minutes, scrub them vigorously, rinse them, and leave them to air dry.
Pop the basket out first before you leave them to soak in the water to get them as clean as possible. To remove the basket, pry it off with a spoon or a butter knife.
Backflushing your espresso machine
Backflushing the machine is when you intentionally change the direction of the water flow so the machine can flush the water tank. You do this by using "blind" or "blank" baskets. Unlike regular portafilter baskets with holes, these baskets are solid, forcing the water backwards into the tank. Backflushing removes any scale, coffee grounds or sludge from the inside of the water tank.
To backflush, remove the regular basket from the portafilter, and put the blind basket in. Place ½ tsp of PuroCaff into the basket, and screw the portafilter into the machine. You'll want to run 5 cycles, each with 10 seconds on, and 5 seconds off. You'll likely see dirty, foamy liquid coming from the outlet–that's normal. After your 5 cycles, remove the portafilter, run some water from the group head, and rinse the portafilter.
Screw the portafilter back in, and run 5 cycles (10 seconds on, 5 seconds off), this time without the Urnex. Your backflush is complete.
NOTE: Backflushing works on 3-way valve systems. If you have a lever-style machine, backflushing isn't necessary, and shouldn't be attempted.
The group heads are the brewers, ie. the part that the portafilters screw into. They'll be covered in grounds from the day, and will need a good wipe-down and brushing. Using a group head brush, scrub the entire top of the group head while running the water. If the hot water is threatening to splash at you, just turn the hot water off while scrubbing, running it between brushes.
After you're done brushing, wipe the entire group head with a clean cloth or paper towel.
The steam wands are in contact with milk all day, posing the risk of bacteria. Not only this, but if the wands aren't cleaned regularly, the milk residue can harden over time, affecting the performance of the steam wands. They won't make barista-worthy microfoam if they're clogged up.
To clean them, dissolve a ¼ tsp of Frother Cleaner in a small pitcher with hot water filled halfway. Place the steam wand in the pitcher and leave it to soak for 30-60 minutes (NOTE – Do not leave overnight). In the morning, simply wipe down the steam wands and purge them for 30-60 seconds.
The espresso machine has a tray that collects water and spilt coffee. During the day, this can get quite dirty. It's important to clean this daily–otherwise it can clog the drain, smell foul, and attract pests.
To clean the tray, simply flush the tray with hot water until all the grounds are gone. You can also manually remove it and rinse it under the sink (just make sure you cover the hole with a damp cloth or you'll have another mess to clean up!).
While it's what's on the inside that counts, we also believe your espresso machine should look sharp on the outside, too. Make sure the tops of your espresso machine (where the cups and saucers live) and the exterior of your machine are cleaned regularly. Grinds can accumulate on top of the machine, and coffee and milk splashes can be seen on the outside of the machine, facing customers. Your espresso machine is a work of art, so make sure it always looks taken-care-of.
Maintaining the cleanliness of your espresso machine should be a group effort. An espresso machine that doesn't get cleaned regularly can make the flavour of your coffee suffer, and it can slowly degrade your machine. Espresso machines are not cheap, and neither are espresso machine technicians. Remember: a stitch in time saves 9!
Looking for more tips for masking tasty espresso? Check out our previous article on how to pull a perfect shot of espresso. If you need more guidance on the ins-and-outs of espresso, book a consultation with us–we're here to help!