Colombia - Elias Roa - Acevedo Region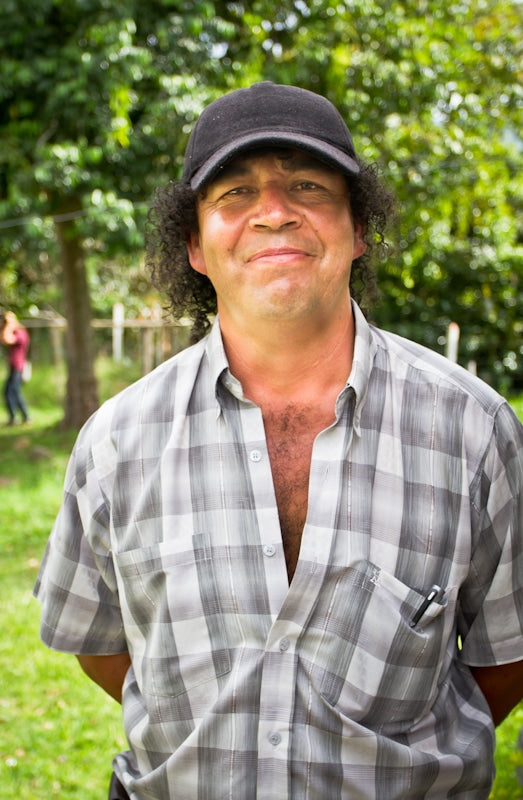 Elias Roa and his family have been producing coffee for 25 years. One in in the Acevedo region, Finca El Recuerdo and the other in El Pital called Finca Tamana.
Elias Roa and his family have been producing coffee for 25 years. Elias has 2 farms, this one in the Acevedo region called Finca El Recuerdo and the other is in El Pital called Finca Tamana, giving him the ability to harvest coffee all year long. Elias will be able to send his 3 children to University through producing high quality coffees. Elias is the president of the coffee growers association called Primavenal in Acevedo and is leading the other members to produce higher quality coffees through his examples. There are 8 people who are employed on his farm all year long, and 25 people during the harvest season.
COUNTRY: Colombia
REGION: Acevedo, Southern Huila
FARM: Finca El Recuerdo
PRODUCER: Elias Roa
VARIETALS: 80% Caturra, 20% Castillo
ELEVATION: 4700 feet
PROCESSING METHOD: Double washed, soaked, slow dried on African beds in a parabolic solar dryer for 20 days.
LOT SIZE: 20 bags (3040 lbs)
Acevedo is on the southern side of Colombia in the department of Huila. Huila is one of our favorite regions within Colombia–the cups have lots of tropical fruit, citric notes, have pleasing acidity and are extremely sweet.
The average farm in Acevedo region is about 3 hectares of land with traditional varietals of Caturra, Typica and now more and more Castillo as this is a Roya/Rust resistant plant. From this, you can typically harvest 20-40 exportable sacks of coffee (152 lbs per sack), twice per year. Colombia and Kenya are unique in the world for having 2 harvests per year due to their proximity to the equator and many microclimates with in their countries.
Elias uses a small traditional pulpers on his farm along with small fermentation tanks. There is ample spring water coming down the mountains that producers use to ferment and wash their coffee. An overnight fermentation of 10-13 hours is followed by hand test in the morning to determine if the sugars are off the beans. Should the fermentation be complete, coffee is then brought to his small parabolic drier with a bamboo floor and domed poly roof to keep the afternoons rain off.
Elias is one of the rare coffee producers leading the way in his drying techniques. He understands the importance of drying his coffee slowly and evenly to ensure consistency and longevity of his coffee. Elias ensures that the temperatures in the parabolic dries are calibrated. He has 3 layers of African beds. 2 layers of beds are calibrated at 30 degress, and a lower layer at 20 degrees. READ THIS for more information on drying coffee. Once dried it goes to the communal warehouse Primavenal in town where it is catalogued and cupped.
Our challenge over the past 5 years working in Colombia has been finding a coffee producer who is able to consistently produce enough high quality coffee each harvest for us to partner with. The risk with Direct Trade in Colombia is that you do not have much flexibility in choosing different Lots from a single producer. Ideally when working with coffee producers year over year, is the ability to pick and choose specific Lots (areas within a farm) that you want to buy that harvest.
Each harvest produces new challenges to the coffee producers, and you are never guaranteed to get the same quality as you did before. Being able to choose different Lots from a single coffee producer creates more certainty in finding the specific quality we desire year over year.
These challenges are also what make Colombia rewarding for us. Because this isn't an easy country to source from, a lot of roasters do not go, or have yet to try and establish Direct Trade with any coffee producers. Due to the relationships we have established over the years, we have been able to find some amazing producers who we are confident to work with.