NEWS RELEASE - Community Bakehouse announced for landmark Calgary location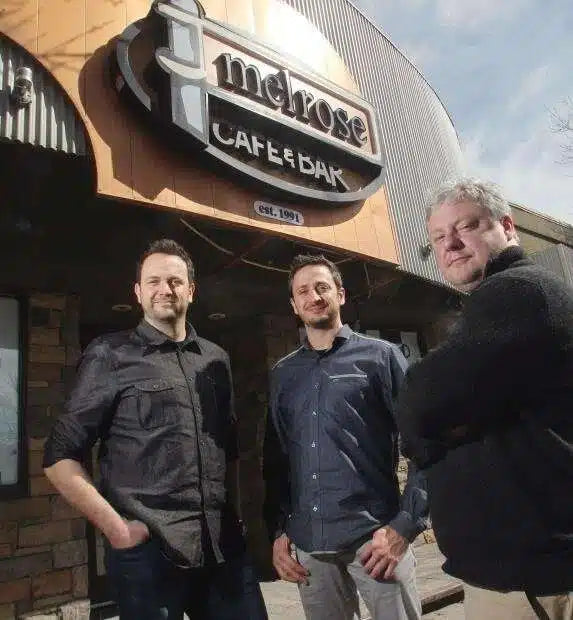 Community Bakehouse announced for landmark Calgary location
Corbeaux Bakehouse to open this September under award-winning US chef Keith Luce
Calgary, AB, May 2, 2014… Ending at least part of the speculation about what will take over the landmark Melrose Cafe & Bar space, the Calgary brothers behind Fratello Coffee Roasters and Analog Cafes, Chris and Russ Prefontaine, announced today their newest venture will open this September in the former restaurant and patio space.
More than just a bakery, Corbeaux Bakehouse will offer exceptional breads, world-class pastries and a rotating menu inspired by only the finest ingredients, with everything crafted in-house. The culinary team will be led by award winning and seasoned chef Keith Luce who eagerly accepted the Prefontaine's offer to move to Canada with his family to be part of Calgary's culinary community.
Luce's resume and career accolades are impressive to say the least. He's been recognized by the prestigious James Beard Foundation as a Rising Star Chef Winner and Best New Restaurant Nominee, Food & Wine magazine has recognized him as Best Chef and he was even appointed to the United States Culinary Diplomatic Corps to name only but a few of his accomplishments. However, it was his approachable charm and excitement about doing something new and noteworthy in Calgary that made Russ and Chris realize instantly they'd found their man.
"Keith's as seasoned as they come but what really excited us most was his excitement about Calgary and how aligned he was with our vision for this special place," said Chris Prefontaine.
Leaders in Western Canada's third wave coffee movement, the Prefontaines have long been supporters of direct trade, working closely with coffee farmers to know and understand where their product comes from.
Now they plan to take what they've learned and loved about coffee, and with Luce and his team's help, apply that to bread and all the great things that go along with it. Small-production ancient grains. Local ingredients. A fierce emphasis on freshness. And knowing who makes your bread and food. Knowing their name, their story and why they believe in what they do.
"It's an Old World approach, but with a fresh new energy," said Luce. "The Corbeaux experience will begin with respect for ingredients and technique, but ultimately it's about going back to the basics and creating a community bakehouse that brings people together in the heart of the City," he said.
Additional details on the team and offering will be shared over the coming months.
About Corbeaux Bakehouse:
Opening in September 2014, the completely redesigned space will be a gathering spot for Calgary's bread-loving community. A welcoming place to fuel up in the mornings. An opportunity to reconnect at lunch. And a warm place to linger with friends over a meal and a glass of wine on the way home. Stay connected at www.corbeaux.com, on Facebook at www.facebook.com/corbeauxbakehouse or on Twitter and Instagram @corbeauxbakehouse.