Calgary Herald's Review of Analog Coffee 17th Ave.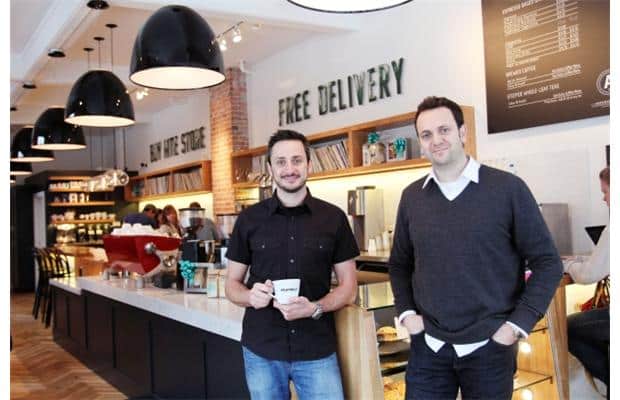 You know those idyllic coffee shops you see in advertisements for really expensive jewelry or high-tone perfume? The kind of place where tall windows spill light across hardwood floors onto shiny espresso machines, and where hip customers lean into each other, deep in conversation? Thats the new Analog Coffee (740 17 Ave. S.W.) in a nutshell.
Stepping out of 17th Avenue traffic through the corner door of the former Buy Rite grocery store is like crossing into a slightly amplified — and caffeinated — world. The December light glows golden at midday and the air is filled with the intoxicating aroma of espresso. Buy Rite lives on in its old metal sign letters hung over the coffee bar (Free Delivery is there too) but otherwise the space is fully updated. Herringbone hardwood covers the floors while those light-spilling windows are sealed against winter's blast. Long black banquettes line the walls and a handful of tables fill the small room.
A long bar hosts a Fratello Slayer espresso machine — one of the best on the market — and a pour-over section for those wanting a longer coffee. For the fly-by crowd on the run, there will soon be larger coffee carafes at the ready for take-out. And for those feeling a bit peckish, there's fresh baking from La Boulangerie and Sidewalk Citizen. That includes some of Sidewalk's creative sandwiches built by talented chef Colin Metcalfe.
Analog Coffee is the second shop created by Chris and Russ Prefontaine, the brothers behind Fratello Coffee Roasters. Their first Analog opened in the new Calgary Farmers Market last year and always seems to have a lineup. Now the brothers have taken their concept uptown.
So what is their concept? Good coffee of course, using responsibly grown, direct trade beans (sourced directly from the growers) and a combination of technology (the Slayer) and handmade (pour-over). Combine that with service by baristas who know their product and you get a good cup of coffee.
Then there's the Analog name, referring to their desire to hand-craft every cup of coffee and serve foods that are equally hand-crafted. Look along the back wall of Analog, under the Buy Rite sign, and you'll see a long row of LPs, records collected from numerous sources around town. Although Analogs soundtrack is now distinctly digital, they plan to install a turntable and crank out old analog tunes from the disks. Perhaps that will make the coffee even tastier and the light just a little more golden.
John Gilchrist's new Eat Canada restaurant app is now available at the App Store. He can be reached at escurial@telus.net or 403-235-7532.
© Copyright (c) The Calgary Herald
Read more: http://www.calgaryherald.com/life/Analog+putting+craft+back+into+coffee+Calgary/7734373/story.html#ixzz2HK62tWwN