Colombian Coffee | Arnulfo Leguizamo, San Agustin, Huila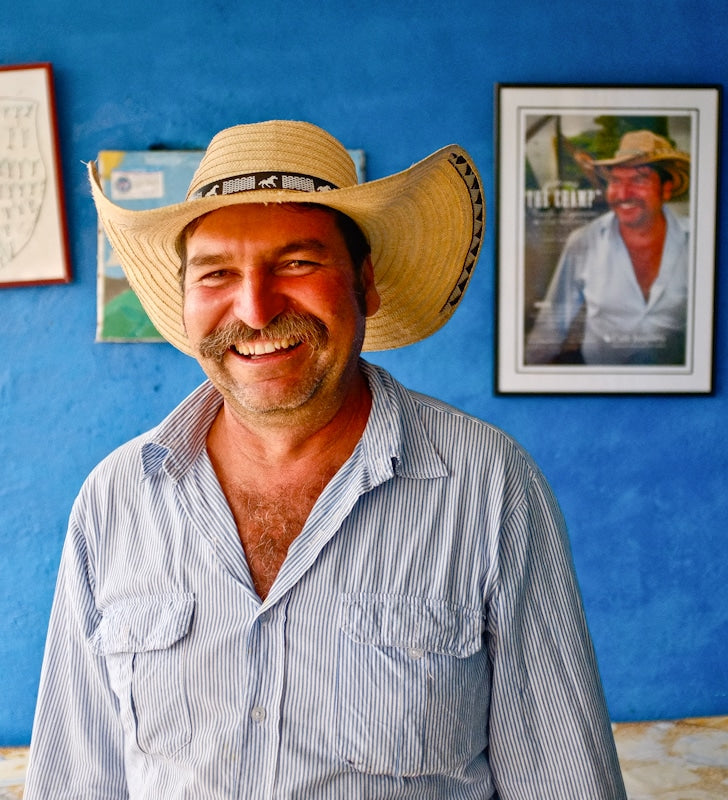 We are extremely excited and proud to be introducing you to not only one of, or THE BEST Colombian coffee in the world, but also one of the best coffees we have tasted in a very long time. Arnulfo Leguizamo, a coffee producer in San Agustin, a micro region of the Huila district broke records when he finished 1st place in the 2011 Colombian Cup of Excellence competion.
He not only was one of the highest ranked Colombian Coffee in history scoring a 94.05 (2nd highest) but he also recieved the highest price paid at any Colombian auction in history when bids reached $45.10 / lb green, FOB Colombia (with the average amount paid at that time being around $2.75 / lb). We purchased this coffee in November of 2012 on our last trip to Colombia.
Fratello Coffee has a very small amount of this coffee availalbe, only 300 lbs, but we are the only roasters in Canada to have access to it. There was only 900 lbs of this #1 Lot available world wide so we are happy to offer what we got.
Finca Primavera Overview:
>Producer:
Lot: 1
City: San Augstin
Region: Huila
Country: Colombia
Farm Size: 2.0 Hectares
Elevation: 6075 feet
Variety: 100% Caturra
Processing System: Full Washed, and Sun Dried
Lot Size: 300 lbs.
Mr. Arnulfo Leguizamo is 46 years old, son of a coffee farmer born in the municipality of Teruel, Huila. In his youth he studied several mechanical activities and after doing a lot of work in an urban environment, he decided that his future was in the field – dedicated to work with coffee.
He started by planting half of a hectare in the property of his father in Teruel. He traveled to the municipality of San Agustin 23 years ago, in order to know the mystical sculptures at the Archeological Park. Nevertheless, the climate, the warm people and mainly the wealth of earth caused him to fall in love with this municipality where he met Mrs. Aura Rita Bolanos his wife and the mother of his four children: Mayeli, Joh Edison, Diego Felipe and Hamer Duvan.
He began with 1 hectare, an inheritance of his wife, and after a while he bought 3 more hectares that he planted little by little with coffee. His farm is called "Primavera" and it is located in the village "El Tabor" at the municipality of "San Agustin". Is cultivated with Caturra varietal and is being renovated to integrate the variety Castillo. He has been a Rainforest Alliance Certified farmer for 4 years, and he is committed to the protection to the environment. He is protecting springs and birds, he is recycling trash, and he doesn't spray out chemical products. These principles are because of his sons – he wants to keep his place at least without contamination or pollution so they can live and eat there in the future in a healthy way.
His principals for the production of coffee are based on the quality; he says "I have to do things with love, dedication and with the support of my wife and my children. The advantages of this land where my farm is located are a secret but mainly because of the high altitude and the right temperatures we produce coffee with the best attributes for its taste. It is important for us to harvest only ripe-red cherries and process on time. We have to wash coffee well with clean water and dry it under sun and air for that we use the system: 'Casa Elda'."