Fratello's Analog Coffee and Why we Built Them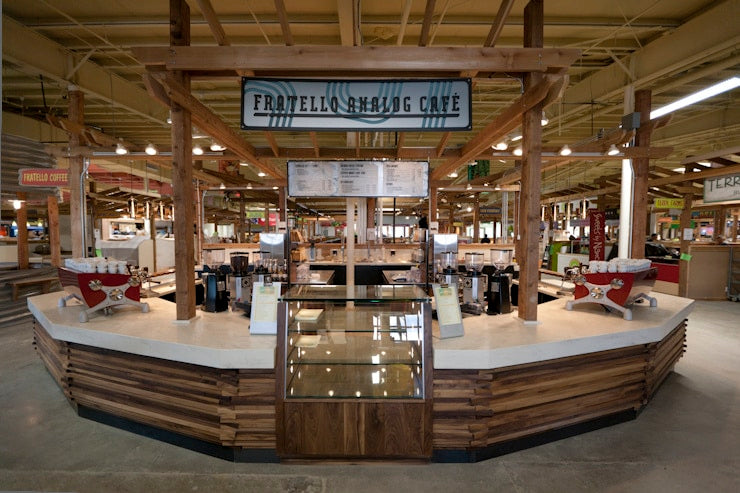 Many people have asked us why we started Analog Coffee at the Calgary Farmers Market as well as our new flag ship location on 17th Ave SW. Our Analog Café's were not designed to be "just another coffee house". They were designed and created to give Fratello Coffee Roasters a voice directly who matters most. People who drink and enjoy our coffee everyday.
The idea of having our own cafe isn't new. We have been talking about this for over 15 years when we first purchased the roasting company from our parents in 1997. Back in the early years of our roasting company, our father Cam Prefontaine did his best to buy better coffee from his competitors. He would experiment with different ways of roasting this coffee with the equipment he had and would service his customers way better than his competitors.
These were also the days before "2nd Wave" coffee was the norm, and back before anyone had even heard of Starbucks. Trying to convince the early bakeries and deli's to buy what was "gourmet" coffee was a challenging thing to do. It was only the early/mid 90's that Starbucks, Second Cup, Grabba Jabba (now Timothy's) began to pop up on every corner that the ability for us to roast/sell higher quality coffee began to become easier.
In these years, or the 2nd Wave of coffee, we began working closer with our wholesale café customers with education on what espresso based beverages were all about. We did our best to encourage them and get them excited about wanting to sell better and better coffee. We would offer our brand image to them in hopes that they would represent us in a way which would create recognition for quality. This unfortunately is very challenging to do when you are required to rely on others to be your voice on the streets.
A big decision was made in 2007/2008 when we as a company decided to down-size and re-focus on what we cared most about. And what we cared about was quality. At this time we changed our name to Fratello Coffee Roasters (Italian for brother) and began to focus on our accounts who aligned with the same principles as us. If an account didn't "fit" we simply decided to end the relationship. Over the course of 4 years, a 50-60% reduction in business as well as an entirely new company culture was formed. It was only during this process that we could begin our transition into becoming a "3rd Wave" coffee roaster.
The Third Wave of Coffee refers to a current movement to produce high-quality coffee, and consider coffee as an artisanal foodstuff, like wine, rather than a commodity, like wheat. This involves improvements at all stages of production, from improving coffee bean growing, harvesting, and processing, to stronger relationships between coffee growers and coffee traders and roasters, to higher quality and fresh roasting, at times called microroasting (by analogy with microbrew beer), to skilled brewing.
At Fratello we understand coffee because it has – literally – been our passion for over a quarter century! Hundreds of thousands of people have tasted our coffee without ever knowing it! With the opening of the Fratello Analog Café in the Calgary Farmer's market in early 2011 we took the plunge into retail, and we're delighted we did. We continue to learn new experiences each month which empowers us with new knowledge to better train/coach our wholesale clients. Our brand has become more recognized in this city as the leading quality coffee roaster and has enabled us to have a "voice" in the street (away from business to business) of our own, and put our brand in our own hands.
With the 2012 opening of our flagship store on 17th Ave and 7th Street we are again able to begin sourcing coffee an entirely new way! It wasn't typical of us to introduce 2 or more coffees from the same growing region at once, but this is something we are starting this year. We find it's such a great opportunity for our customers to discover different flavour characteristics a country has to offer when you are able to taste different farm/cooperative offerings, from the same growing region, side by side.
Therefore, What makes a great cup of coffee? Simply put, pride! Pride in how we source our product, by knowing our producers and knowing our regions, and not being afraid to always make the call that quality is more important than quantity. Attention to perfection then continues back here in Calgary, where we use our many years of roasting/training experience. Lastly, the magic plays out in our cafes, Analog Coffee, where our amazing staff – who all understand and live the Fratello philosophy – bring you the perfect cup of coffee every time you order it. Come and check us out.