Something Big is Brewing at Fratello Coffee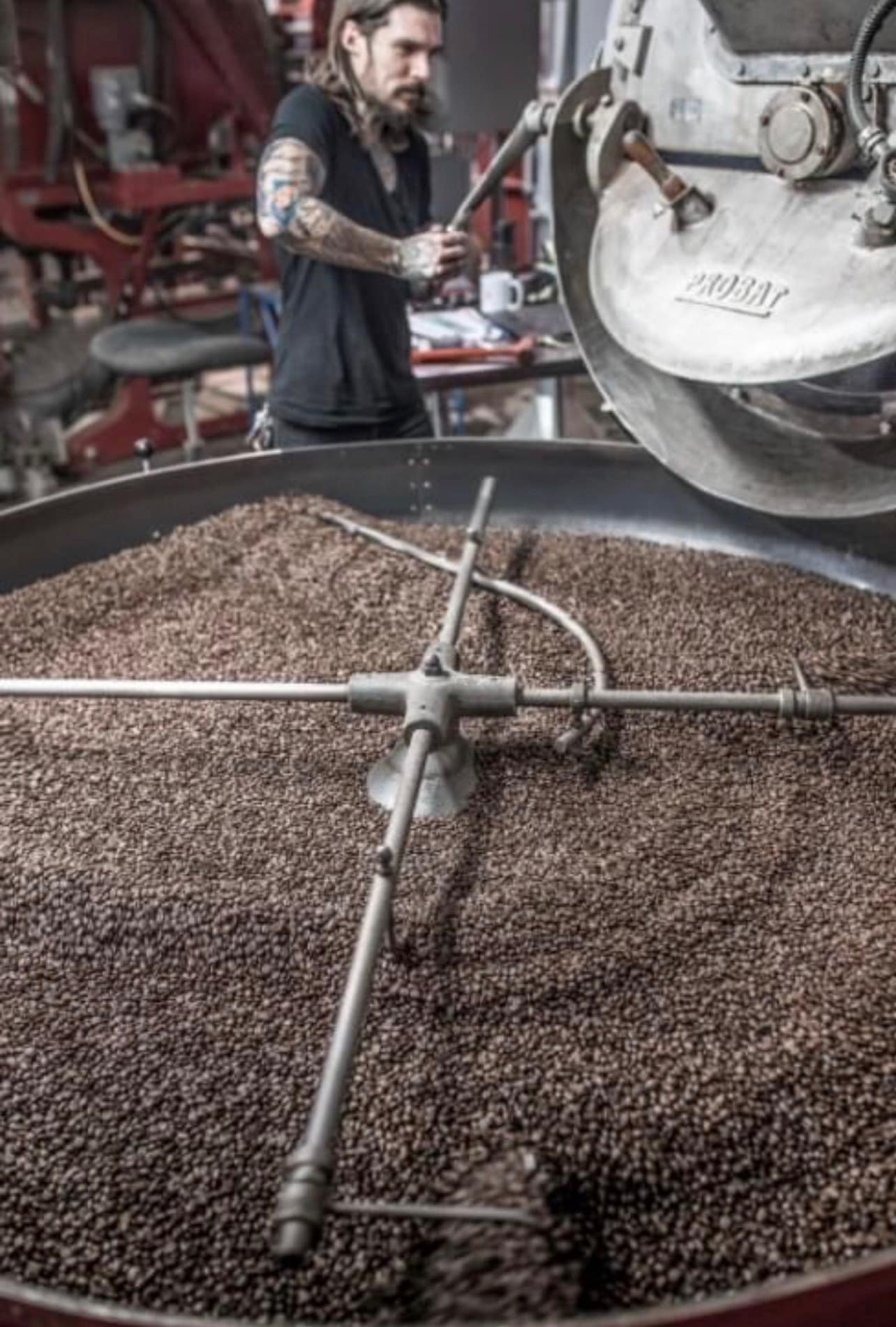 David Parker, Calgary Herald Published: Tuesday, June 26, 2007 It doesn't seem that long ago to me that a cup of coffee was something poured as an expected followup to any restaurant meal. Then came the coffee shops and over the last few years people in this city have followed the trend in lining up for a cappuccino, mocha, espresso, frappucino or any number of gourmet blends. Now, according to Chris Prefontaine, director of business development and one of the three brother owners of Fratello Coffee Co., we are entering a third wave.
Following behind the remarkable movement in Seattle and Vancouver towards serving unique, specialty coffees from high-quality, auctioned green beans that are served by a knowledgeable and well-trained passionate staff, coffee drinking is reaching new heights here.
Russ Prefontaine, left, Chris Prefontaine and Jason Prefontaine of Fratello Coffee Co. The company buys top-qualify coffee from 31 countries. Leah Hennel, Calgary HeraldHe should know — the family has been in the business here since parents Cam and Barb Prefontaine began supplying offices with coffee from their home garage in Varsity Acres in 1974.
To improve on quality, they bought their own roaster and soon brothers Chris, Jason and Russ were spending spare time packing coffee and cleaning the machines that were free if a company used the coffee from what was then registered as Custom Gourmet Coffee.
Cam was always on the lookout for new opportunities and wanting his sons in the business, he started Espuccino Imports to bring cappuccino machines into the city.
Chris became the salesman and mechanically minded Jason was responsible for looking after the machines.
Then joined by younger brother Russ, they bought out mom and dad's coffee business in 1997, changed the company name to Fratello (Italian for brother) and quickly made moves from 300 square feet in the northeast to finish up buying their own 44,000-square-foot building on 9th Street S.E.
But they are not in the real estate business and have just sold the building to Peregrin Properties on a lease-back deal that has provided capital to expand the business further by investing in people, packaging, equipment and research.
Fratello's roasting is all done in Calgary but there are offices in Vancouver and Seattle where it is developing a new, top-of-the-line coffee machine that will be unveiled at the Specialty Coffee Association of America conference next spring.
Chris says that most coffee houses can offer consistent but not high-level coffee. He's convinced his new machine, using the newest technology available, will be welcomed by the industry.
Equipment is important but coffee is supreme, and today people are concerned about fair trade as well as quality. Serious coffee drinkers are willing to see farmers paid for the hard work they put into their crops, while enjoying the finest tastes.
Fratello buys from 31 countries and is purchasing more through international auctions offering Cup Of Excellence beans that have ratings of 84 points or higher.
At last month's auction of Nicaraguan coffees, the top coffee sold for an astounding $47.06 per pound. Fratello has a wide range of COE samples it is testing and purchased its first 20 sacks of auctioned beans — scoring at 89 points — from three Nicaraguan family farms.
They will be roasted and ready for sale within two months' time.
The brothers have done well and I was excited to learn that they are sharing their good fortune.
Ten per cent of all profits go to their adopted town of Belo in Ethiopia — a community of 3,300 people with little access to water, sanitation or health systems — that they visited in 2004.
They have developed a long-term relationship to help the people move from hopeless poverty to developed self-sustainability.
The company buys the best beans, slow roasts them in small batches and is passionate about not only providing the best coffee but ensuring good customers like Cafe Beano and Good Earth Cafes have staff that are educated, trained and dedicated to serving the third wave of coffee.
I can see the Herald publishing a gourmet coffee column alongside its Sunday Wine & Spirits before too long, advising readers of the best roasts on the market.