El Salvador Finca Los Pirineos - Direct Trade Coffee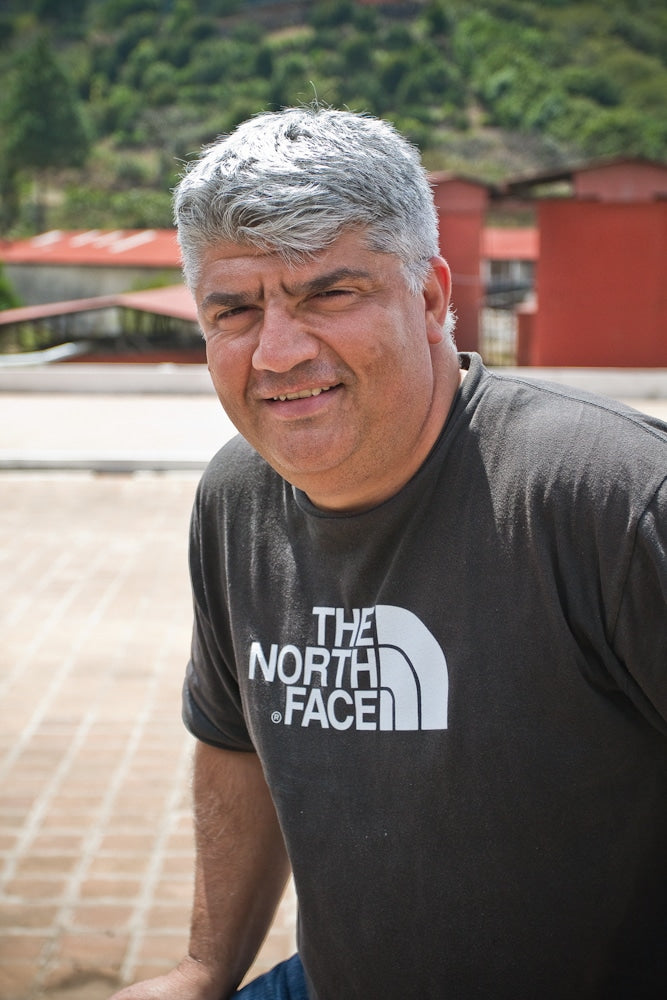 I was fortunate enough to meet Gilberto Baraona back in February and toured Finca Los Pirineos which is located in the region of the Cordillera Tecapa Chinameca. This was an enlightening experience as I witnessed some of the nicest processing I've ever seen at a beneficio (wet mill) and dry-mill.
Gilberto was doing things to the extreme on every level, starting with his stainless steel micro-mill set up, which he referred to as "his kitchen". This mill was absolutely spotless and completely state of the art featuring 4 Colombian style de-pulpers, which consume very little water. To ensure the best quality, Gilberto has brought in the best equipment to process and sort/screen his coffees. This was also seen in his dry-mill which had technology brought in from Brazil. It is rare to find someone who handles every step for quality assurance, including the exportation of his beans.
Gilberto is currently doing experimentation with 45 different varietals of coffee trees on his farm. His goal is to find the next "Geisha"…..To do this, he needs to find which varietal of coffee tree results in the best cup profile when grown at his elevation, with his soil conditions, in his ecological conditions. This is NOT normal protocol.
We have 2 micro-lots coming from Los Pirineos this year. The first one is a Naturally processed Red Bourbon Elite (original strain of Bourbon), dried for 45 days on raised African beds. This is not your typical Natural coffee. Look for a clean, well-balanced cup with juicy tropical flavors. There is nothing funky about this cup. This is a tiny 8 bag lot, and its going to fly off the shelves.
The second lot is a Fully Washed Red Pacamara. What is most interesting about this 17 bag lot was the experiment Gilberto did with fertilization. He found the highest grade liquid potassium to use on this section of land. Potassium is often used in fertilizers to spike flavor……its works! This coffee is extremely clean and has aromas of orange, flavors of orange juice, is silky smooth and a delicate citrus acidity.
I'm thrilled to say that Gilberto and Finca Los Pirineos is the newest member of our Direct Trade coffee partners. Finca Los Pirineos is not a very large producer (1500 bags a year) and does not plan on working this closely with many other roasters. His coffees have become known around the world since he participated in the 2008 Cup of Excellence (COE) competition when his coffee took 8th place. Since this time, they continue to win auction positions in the COE, and have begun working with a few coffee greats like the World Barista Champion Tim Wendelboe of Norway.
Watch for these 2 exciting lots of coffee to arrive in late May 2012. Do not wait long to try them; they are not going to be around very long.