Step by Step Instructions | Homemade Coffee Liqueur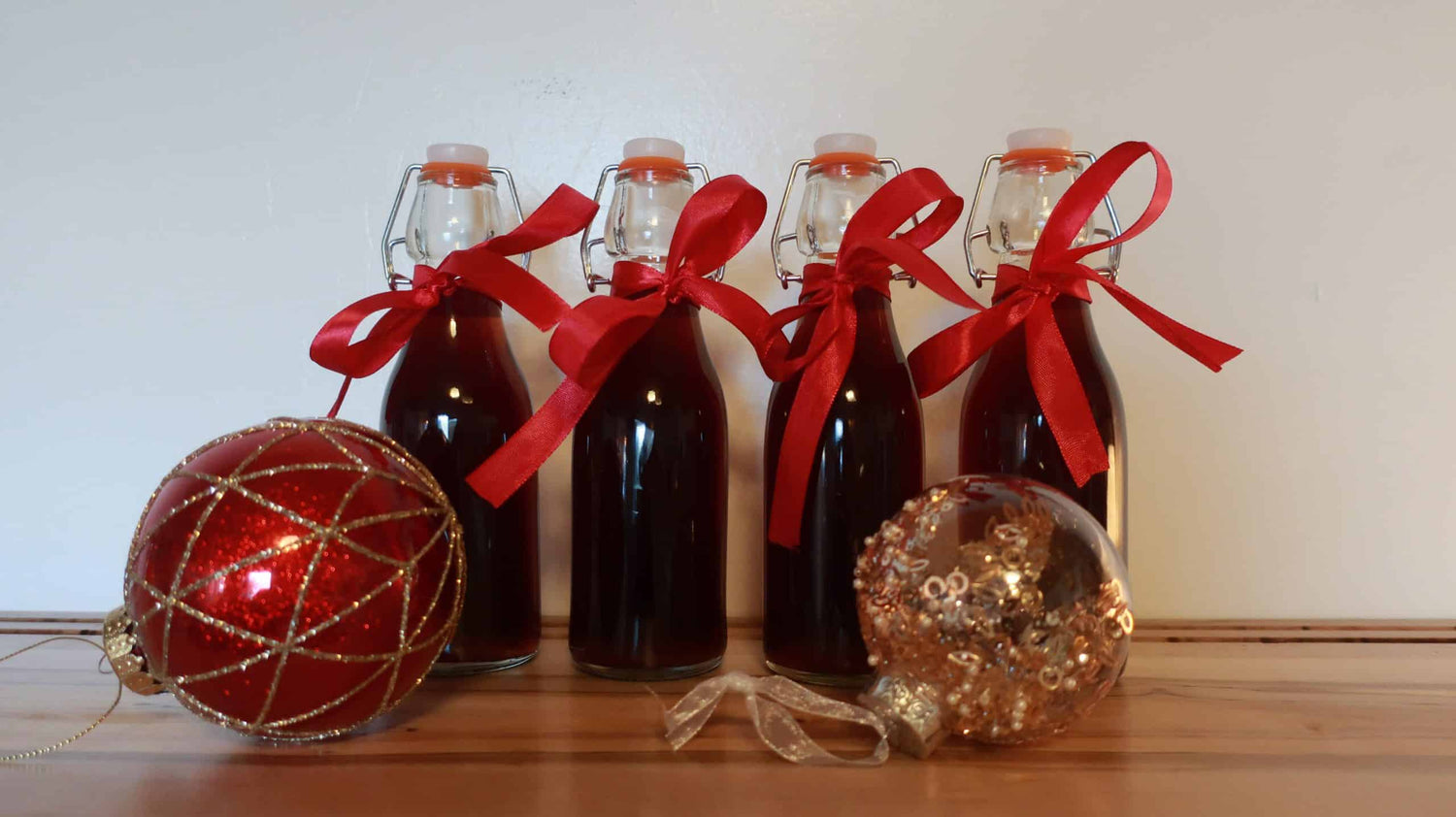 How to make homemade coffee liqueur that'll impress your loved ones
Looking to make a homemade gift, but want it to be extra special? This year, we're going to show you how to make coffee liqueur at home that's delicious and easy to make. Though it's a multi-day process, it's not active time, and it's a fun holiday activity.
The generic coffee liqueurs on the market tend to be too sweet and don't have enough of that rich coffee flavour. This recipe combines the complexity of the coffee and the spices, with just the right amount of sweetness.
Feel free to customize the spices and sugar level to your liking for a true, one-of-a-kind gift. It's a versatile gift that can be enjoyed on its own or used in a classic cocktail (more on that later).
This recipe uses the cold brew method for a silky smooth, rich coffee liqueur. Although it'll require more waiting time, it's well worth the wait.
This recipe will yield 1 L of coffee liqueur, which you can divide into 3-4 bottles to give out as gifts.
In this article, we'll show you how to make homemade coffee liqueur to please your family and friends. Then, we'll also show you some classic coffee cocktails to try out with your homemade coffee liqueur.
What kind of coffee should I use for homemade coffee liqueur?
A dark roast coffee is perfect for making coffee liqueur. You want that bold coffee flavour with chocolatey, toasty notes, and little acidity. We recommend our Godfather Espresso dark, with notes of chocolate fudge and toffee. Another great option is our French Saigon Dark, with little bitterness, and a clean, smooth finish.
Why does this recipe use the cold brew method?
The cold brew method brings out the smoother, more velvety attributes of coffee, without the bitterness and acidity. Brewing coffee with hot water extracts all sorts of compounds, including the bitter ones, which don't complement alcohol very well.
This recipe calls for cold brew concentrate, which is then balanced out with the addition of simple syrup and rum.
What if I don't have all of these spices?
Some of the spices and flavourings listed in the ingredients will be tricky to find or outside of your budget. If you can't get a vanilla bean, add a teaspoon of high quality vanilla extract to the final blend. If you can't find cacao beans, you can skip it entirely. Cinnamon sticks and orange peel are inexpensive and easy to source, and add a ton of flavour.
Do I have to use rum for homemade coffee liqueur?
If you don't like rum, you can always use vodka. The higher the quality of the alcohol, the better your coffee liqueur will taste.
How to make coffee liqueur at home
Here's what you'll need to make homemade coffee liqueur at home.
Tools:
Digital scale

Burr grinder

Saucepan for making simple syrup

Paring knife

Metal mesh strainer

Cheesecloth

2 1L mason jars

Large glass bowl with a spout

Funnel

3-4 small 8-10 oz glass bottles with stoppers

Red ribbon for festive bows
Ingredients:
500 mL of white or amber rum (the higher the quality, the better the liqueur)

75 grams of dark roast Fratello coffee, coarsely ground

1 cup of sugar

2 ½ cup of water (for cold brew and simple syrup)

1 cinnamon stick

1 small piece of orange rind

3 cacao beans

1 vanilla bean
Directions for Homemade Coffee Liqueur:
Start making your infused rum 3 days before you want your liqueur to be ready. Pour 500 mL of rum into a 1L mason jar. Cut a vanilla bean lengthwise and scrape the seeds with a paring knife. Place the seeds and the bean into the rum.

Place 3 crushed cacao beans, a thumb-sized piece of orange rind, and a cinnamon stick broken in half into the rum. Secure the lid on the rum, and let the rum sit in a cool, dark place for 3 days (72 hours).

After 2 days (or 48 hours), make your cold brew. In a 1 L mason jar, place 75 grams of coarsely ground dark roast coffee, followed by 2 cups of cold water. Mix it together with a spoon, and secure the lid. Place it in your fridge for 24 hours.

While the cold brew is brewing, make your rich simple syrup. Combine 1 cup of granulated sugar and ½ cup of water in a saucepan. Stir, and bring to a boil. Reduce to a simmer, and stir until the sugar crystals are dissolved, about 5 minutes. Cool for 1 hour. Pour into a container with a lid, and place in the fridge.

After 24 hours, your rum infusion and cold brew will both be ready. Start by decanting your cold brew. Line a fine mesh sieve with cheesecloth folded over twice, and place it over a bowl or container with a spout. Strain the cold brew mixture, and gather up the sides of the cheesecloth to squeeze out the remaining liquid. If the cold brew still looks murky, strain it one more time.

Using a long spoon, remove your cacao beans, orange rind, vanilla bean, and cinnamon stick from the rum.

In a large glass bowl with a spout, combine your cold brew, rich simple syrup, and infused rum, and stir well. Your coffee liqueur is ready to consume.

Using a funnel, divide your coffee liqueur into small bottles with rubber stoppers or glass jars with tight-fitting lids. Store in the fridge until you plan to gift it. This coffee liqueur recipe will last up to 6 months if refrigerated.
Classic coffee cocktails
Now that you have your homemade coffee liqueur, it's time to enjoy it. Here are some classic cocktails you can use your homemade coffee liqueur with.
Espresso martini
This classic recipe uses a double shot of freshly brewed espresso, vodka, and coffee liqueur. It's shaken with ice and strained into a martini glass for added elegance. The coffee oils in the espresso create a thick foam that's sturdy enough to place three coffee beans on top for a chic garnish. If you don't have an espresso machine, you can make strong coffee using a stovetop espresso maker.
Ingredients:
1 double espresso, freshly brewed

1 ounce of coffee liqueur

1 ounce of high-quality vodka

Crushed ice
Directions:
Brew your espresso.

Fill a shaker half full with crushed ice. Pour in your espresso, followed by the coffee liqueur and the vodka. Shake vigorously for 30 seconds.

Strain into a chilled martini glass. Allow the foam to settle on top, and carefully place 3 coffee beans on top for garnish.
White Russian
The White Russian is a classic, simple coffee cocktail. Creamy, mellow, and not too sweet, it's the perfect treat for a winter night.
Ingredients:
Crushed ice

3 oz milk

2 oz coffee liqueur
Directions:
Fill a rocks glass halfway with crushed ice.

Pour in the milk, followed by the coffee liqueur. Stir, and serve immediately.
Coffee Negroni
This is a twist on a classic drink, the Negroni, which combines gin with a bitter aperitivo and sweet vermouth. The addition of coffee liqueur adds a pleasant complexity.
Ingredients:
Crushed ice

1.5 oz gin

0.5 oz coffee liqueur

0.75 oz sweet vermouth

0.75 oz aperitivo, such as Campari

Large orange peel for garnish
Directions:
Fill a rocks glass halfway with ice.

Pour in the gin, coffee liqueur, sweet vermouth, and aperitivo, and stir for 20-30 seconds, or until the glass starts to frost.

Grab your orange peel, and squeeze the rind over the top of the drink to infuse the drink with the essential oils. Tuck the rind down the side of the glass for garnish, and serve.
Drinks on the house
This is the perfect homemade gift that people will actually enjoy. It's easy and fun to make, and it's way better than anything you'll find at the liquor store. Add whatever spices tickle your fancy, and make it your own!
Happy Holidays from the Fratello team!