French Press | How to Brew Instructions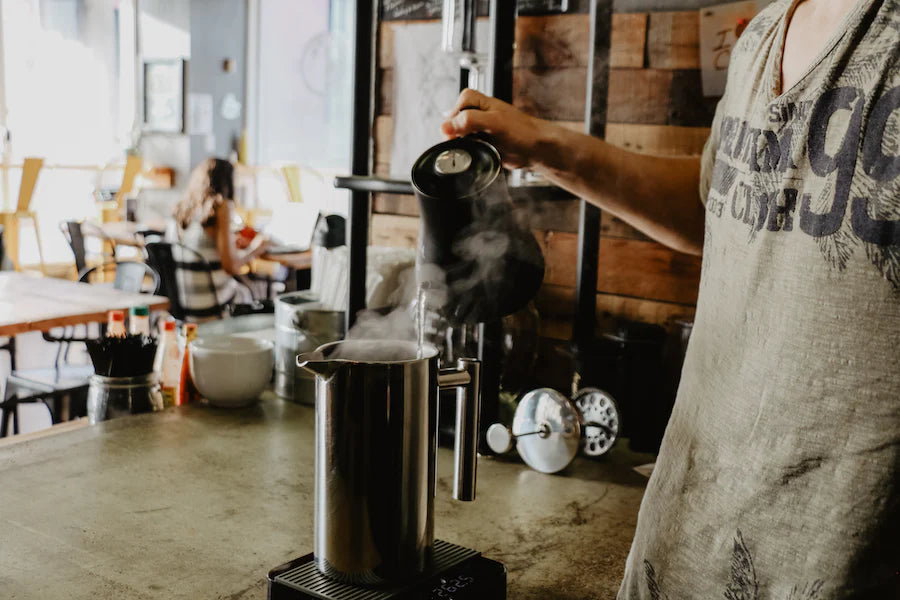 The French press was invented in the early 1900s by Italian designer Attilio Calimani. However, it was not until the 1950s that the French press became popular in France and the rest of Europe. The design was later improved by Danish designer Erik Nielsen in the 1970s with the addition of a double screen filter system, which helped to produce a cleaner cup of coffee.
Since then, the French press has established itself as a standard in homes and coffee shops all over the world thanks to its easy-to-follow brewing method that yields a rich, flavorful cup of coffee. Overall, the French press is a time-honored coffee machine that is still a favourite among coffee drinkers today. The flavour profile and detailed instructions are described in more detail below.
What is the flavour Profile of a French Press?
French press coffee is renowned for its powerful scent and rich, full-bodied flavour. The direct contact of the coffee grinds with the water, which allows for better extraction of the coffee's natural oils and flavours, gives it a strong, distinctive taste.
The French press often yields a coffee that is bolder, with a thicker texture and a more robust flavour profile, compared to other brewing techniques, like a drip coffee machine or a pour over. It is the ideal choice for those who prefer a powerful, robust coffee with a smooth body and little bitterness.
Overall, the smooth, velvety texture and the nuanced, rich flavour profile of French press coffee make it a favourite among coffee connoisseurs.
How do you make a French Press?
Here are the instructions for using a French press coffee maker:
Fill the French press with hot water and let it sit for a minute to warm up. Then, empty the water.
Measure out the coffee beans and grind them to a coarse consistency. You'll need about 1-2 tablespoons of coffee for every 4 ounces of water. Your coffee should be ground slightly coarser than a filter grind. Each granule should be distinctly visible to the naked eye. Refer to the picture for added clarity on grind size.
8oz French – 15-20g or 3-4tbls coffee – 300mL water to fill line (1 cup)
40oz French – 30-45g or 6-9tbls coffee – 750mL water to 1st fill line (3 cups)
40oz French – 40-60g or 8-12tbls coffee – 1000mL water to 2nd fill line (4 cups)
Place the coffee grounds in the French press.
Pour hot water over the coffee grounds, filling the press to just below the rim. Let the coffee steep for 4 minutes. It is recommended to use water that is just off the boil, around 200°F, to ensure optimal extraction of the coffee flavor.
Slowly press down on the plunger to separate the coffee grounds from the liquid.
Pour the coffee into your cup and enjoy!

Why would a cafe want to offer French Press instead of filter brewed coffee?
A cafe may choose to offer French press coffee instead of filter brewed coffee for several reasons:
Flavour profile: Compared to other brewing techniques, French press coffee has a distinctive, rich, and full-bodied flavour. By providing a French press option, a café may highlight the distinctive qualities of its coffee beans and attract clients who like a stronger, more potent cup of joe.
Greater control over brewing conditions: The French press gives the barista more power over the brewing procedure, including the water temperature, steeping time, and coffee-to-water ratio, which can lead to a more reliable and superior cup of coffee.
Aesthetic appeal: The French press has a timeless, classic style that can give a cafe's drink menu a touch of refinement. The cafe may convey to clients that it values coffee and is dedicated to delivering a high-quality coffee experience by giving a French press option.
Greater adaptability: The French press is a versatile option for a cafe's drink menu because it can be used to brew a number of coffee varieties, from light and delicate to bold and robust.
Overall, providing a French press option can help a cafe stand out from competing businesses and draw in patrons searching for a distinctive and high-quality coffee experience.