Guatemala Finca El Socorro - Direct Trade Coffee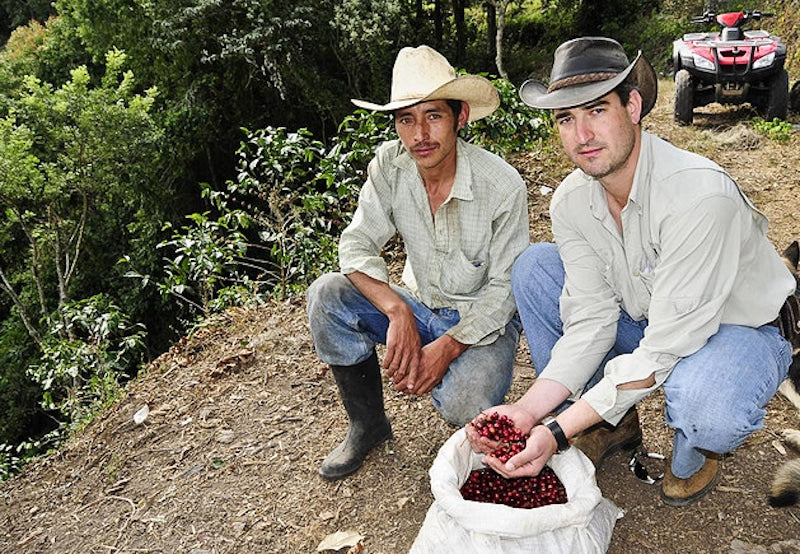 We always like finding new coffee producers to work with. Often we find a farm to work with who has won an award or to, or at least strives to win awards for quality. It is very rare to come across some one like Diego De La Cerda and Finca El Socorro who has won THIS many awards and this well known in the world for quality.
Everyone calls Diego De La Cerda the Silver Fox. And he is. Diego is the definition of suave. Not only does he produce some of the best coffee in the world, but he looks cool doing it.
Diego runs Both of his farms, El Socorro and Guayaba with a focus on the details. Everything is looked and improved. The results speak loudly to the obsession with quality. A few of their awards have been:
2nd Place 2012 Guatemala Cup of Excellence Award
1st Place 2011 Guatemala Cup of Excellence Presidential Award
Coffee of the Year award from the SCAA – 2011
4th Place 2010 Guatemala Cup of Excellence Award
10th Place 2009 Guatemala Cup of Excellence Award
3rd & 4th place 2008 Guatemala Cup of Excellence Award
1st Place 2007 Guatemala Cup of Excellence Award
The variety they grow which has been winning most of these award is a Maracaturra (a cross pollination of Caturra and Maragogype) lot which we are happy to be offering at the end of July. There is only 300 lbs of this available, so don't expect it around long. 2 other lots will be available as well: Palo Blanco and Santa Teresa.
Some detailed information on this farm:
Country: Guatemala
Region: Palencia
Producer: Diego De La Cerda
Farm: Finca El Socorro
Harvest Period: January through April
Elevation Range: 1400 to 195 masl
Size of Finca: 74 hectares
Tablons or lots on Finca: 21
Kilos Produced: 32,000 kilos (73,500 lbs) (avg year)
Varietals: Bourbon -Red, orange and yellow, Maracaturra, Caturra, Typica, Pacamara
Team of people: 65 (harvest) 22 (full time)
El Socorro farm is located in Palencia, municipality of Guatemala department, 50 kilometers away from Guatemala city. The farm used to be part of Hacienda San Guayaba, property of Antonio López Colom in 1905. After he died, it was inherited to the youngest son Julio Colom Gómez Carillo, who sold it. For many years it was owned by different people until 1968, when Dr. Mario de la Cerda and his wife Maria Colom de la Cerda bought it back to the family.
In 1980, his son Juan de la Cerda Colom began to plant coffee. This is the fourth generation of owners. Juan de la Cerda and his son Juan Diego are now in charge of producing one of the best coffees of Guatemala. El Socorro's success is the result of a strict quality control through out the whole process, from the management of the plantation, to the picking and the wet milling.
The farm has an efficient ecological wet mill. It depulps coffee cherries dry, then transports the coffee and its pulp mechanically and recycles the water in the process. Then, the water is treated with clean production techniques, before allowing it back into the forest.