At the forefront of bringing the café culture to Calgary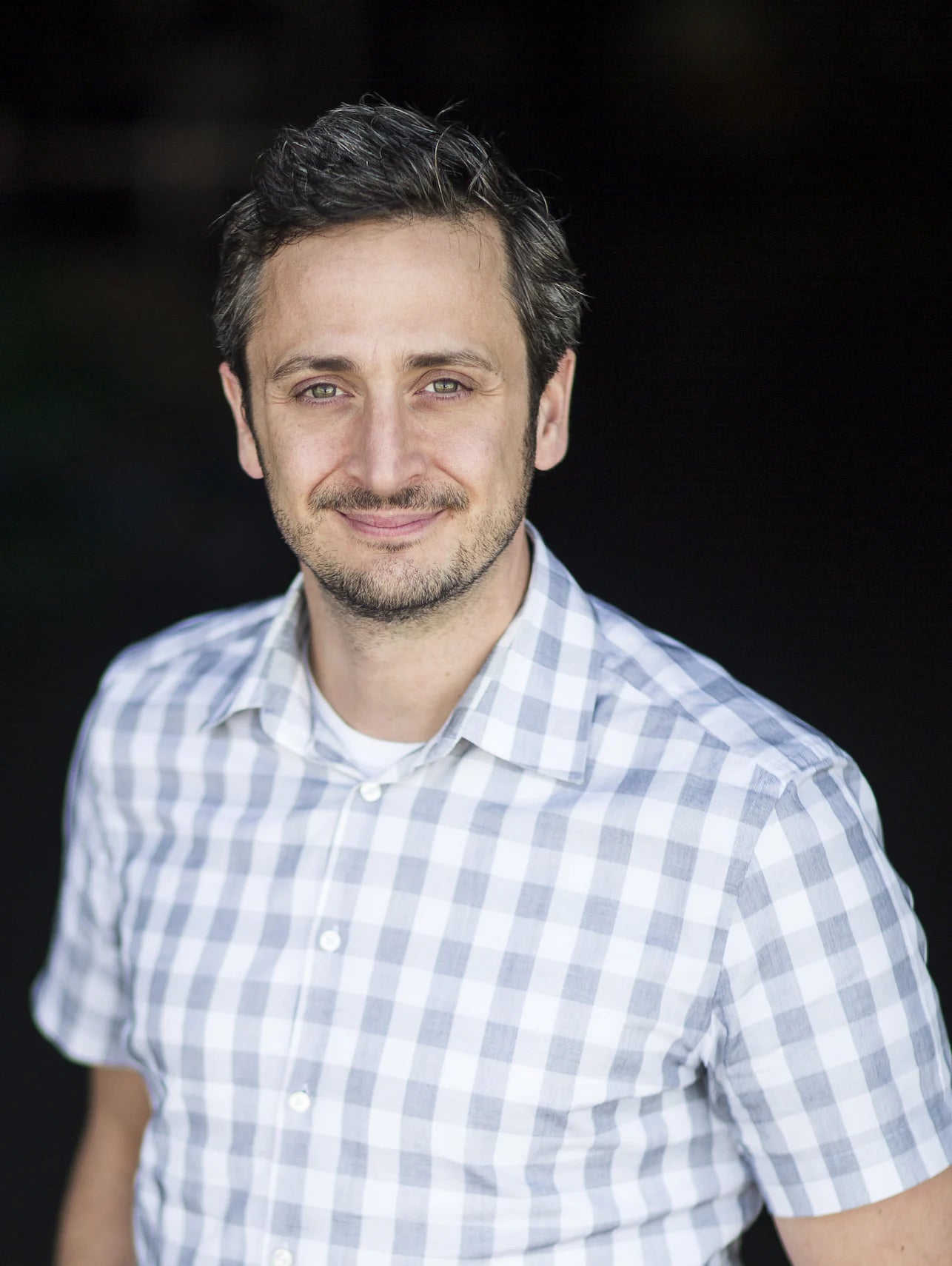 Russ Prefontaine of the Fratello Group talks about why quality, skill and hospitality are at the core of his family's coffee business
Calgary's Business: How and when did Fratello start?
Prefontaine: Our family's history in coffee dates back to 1974, when our dad, Cam Prefontaine, first started a wholesale coffee company, which was operated out of our garage and basement. Our parents involved all three of us brothers (Russ, Chris and Jason) in the family business from the start, earning our allowance by helping dad service old coffee brewers.
In 1985, our dad started roasting his own coffee. He was passionate from the start, experimenting and learning how to source and roast better coffee, as well as helping his wholesale customers make better coffee.
He was one of the first coffee professionals in Calgary to focus on higher-quality beans, and became a pioneer in what we now know as the modern café culture in Calgary.
This planted the seeds that would eventually grow into a family of brands known for their focus on premium quality: Fratello Coffee Roasters, Corbeaux Bakery and Analog Coffee itself. These companies, and their predecessors, played a huge part in bringing café culture to life in Calgary and Western Canada.
All three of us brothers started selling commercial espresso machines in 1991, helping local entrepreneurs start their own shops. We supplied all the equipment and training, and our parents' company supplied the coffee. We bought the roasting company from our parents in 1997 and changed the name to Fratello Coffee (fratello means brother in Italian).
Over the years, we've never stopped learning, expanding our knowledge of coffee, working to keep up with the rapidly-changing trends in the industry. We started travelling to the countries and farms where our coffee was grown in search of the best coffee, and to meet the farmers and families who produced the raw product.
We learned from Dad's increasingly obsessive attention to detail, not just in the way he focused on roasting great coffee but in how he presented it. For Dad, hospitality and community became critically important. He was making the argument – with every new cup poured — that coffee could be something special. Everything had to be as good as possible. Or why bother doing it at all?
This mindset would play a key part in how we eventually built the Analog business. Over the years, we have led, pioneered and challenged a vast variety of innovative coffee and coffee-related businesses, which include the creation of Slayer Espresso machines with our brother Jason in 2007. We envisioned inventing and creating a specialized machine unlike anything else on the market. The ambitious decision to create a machine from scratch that would dramatically expand brewing possibilities was born because we knew there was specific demand from coffee professionals for a machine that could 'flavour profile' the unique varietals of coffee that were being produced.
Our family also owned a bottling facility for coffee chai/syrups/smoothies.
We hope you'll quickly see how completely and totally obsessed we are with every decision that goes into our coffee and its products. It's simple: 'good enough' is never good enough.
As these things often go, it was the original lessons from Dad – the ones about quality and hospitality – that would bring all the promise of our businesses, finally, into reality. We threw ourselves full-bore into expanding our knowledge of growing and roasting coffee. We travelled around the world where we found kindred spirits in farmers who cared as much about coffee as we did.
As business thrived, we started thinking more and more about how best to present the coffees we were working so hard to perfect. This was the moment we decided it was time to create a line of cafés, each reflecting everything we believed a coffeehouse could be if done right. We would take everything we had learned and become so obsessed over, and share it with our community.
CB: Can you give me a scope of your business today and what you do?
Prefontaine: We continue to focus on what we grew up doing. Sourcing and roasting exceptionally good coffee and using our expertise to help other like-minded companies achieve their goals. Our core business is wholesale roasting and now with Corbeaux Bakery, we are also offering a wholesale food solution.
This ambitious project has had a very steep learning curve. But we press on, continuing to put as much effort and intention into our food as we do our coffee. In fact, our team of chefs and master bakers make virtually everything from scratch.
Our natural sourdough bread is fermented 48 hours before baking, our pastries are made from scratch with all-natural premium ingredients, we laminate our croissant dough by hand using real butter, we slow roast our own meat, and even make our own all-natural yogurt, which is a 24-hour process. We don't add preservatives, we only use natural ingredients.
Simply put, we don't cut corners. This has started to get a lot of attention because it's so unique.
Our newest customer, Calgary Co-op, recognized this passion and has begun offering our bread program in a few of their locations. They realize that this was a segment that wasn't being offered or served in their stores, or most of their competitors' stores. We're excited to say that we will be expanding to most of their Calgary stores over the next few months.
Aside from working with our wholesale customers across Western Canada, we spend a tremendous amount of time with our Analog Coffee team fine-tuning our operations. Currently, our focus is on culture and our customer experience. We believe we're all hosts, and want our Analog team members to feel the same way when greeting and serving our guests.
CB: What are your growth plans for the company in the near future?
Prefontaine: We definitely have some fun and exciting plans for growth in the next five years. Much of these plans are to expand our roasting capacity and distribution in order to make it easier for people to find and enjoy our products. This will primarily be based on where we have our brick and mortar Analog Coffee locations, which is also the perfect place to enjoy our Corbeaux Bakery food products.
One challenge for us is we don't do anything without going all the way. This does make it challenging when looking to expand outside of Calgary, as there are so many details to systemize to ensure a successful launch. How do we bring this same attention to detail, quality and care to another city with certainty that those guests will experience everything we do in Calgary?
We have been asking this question for a few years now and we believe we are on the verge of something great.
CB: Why have you been able to be successful in a market that seems to be saturated with coffee players and big ones such as Starbucks?
Prefontaine: We've been successful in this competitive marketplace because I believe our customers can see we authentically love what we're doing. Analog is the realization of everything our family has been building for over 40 years. Every detail of the guest experience is considered, calculated and very intentional, from the décor, vibe and food, to the coffee itself. It's decades of passion made tangible.
We had thought about starting our own café since the 1990s. And in 2011, we couldn't resist the temptation any longer and opened the first Analog Coffee in the Calgary Farmers' Market. It exceeded our own expectations. In 2012, our dream location came available for our second shop on Calgary's 17th Avenue, right in the heart of the city's Beltline community. More stores followed.
Analog gives us a place where we can carefully craft our brilliant single-origin coffees for guests from across all walks of life.
Analog allows us to practise what we have been preaching with a direct voice to the community. At Analog, average is completely unacceptable. We're always in search of the finest coffees for our customers and our community. We're driven by the need to deliver epic, unmatched coffee experiences to our customers. Every day. In every way.
We want to share our coffee with everyone from the longtime aficionado to the newcomer who just wants something a little (or a lot) better to drink. It's not about attitude or elitism. It's about how everyone who orders our subscriptions deserves the best coffee we can find.
We know good coffee is everywhere. But great coffee is surprisingly rare – whether you're drinking it as fuel for your busy day or an escape from it. So, we're here for those who want a life less ordinary. If only for the time it takes to finish a cup of our Analog Coffee.
CB: Why has coffee taken off in recent years as a burgeoning consumer trend?
Prefontaine: We have been watching coffee grow in popularity since we first started roasting in 1985. I remember the day that Starbucks announced they were coming to Calgary. We were excited. We knew that they would bring an enormous awareness to the public on what specialty coffee is, and we knew that to compete against someone like them, that you would have to raise the bar on everything we did.
Today, truly exceptional coffee isn't as hard to find as it used to be in most cities. It's now expected that if you are opening a café, or serving coffee in a restaurant or hotel, that the coffee you're serving has been given attention. Even Swoop Airlines is offering our coffee on board because they wanted to serve their guests something special.
All the fancy grinding and brewing equipment in the world won't make a difference if we don't first find perfectly produced coffee. That's why our producers harvest by hand-picking. That way only perfectly ripe cherries are selected while overripe and green cherries are sorted out. Our growers spend day after day moving from tree to tree, harvesting only the best cherries. This ensures that the quality of our coffee is not hindered by any shortcuts.
Our growers utilize a variety of different processing techniques from honey processing to fully-washed and beyond – all depending on what they believe will coax the best flavour from the varietal. By the time the coffee leaves the farm on its journey to our roasterie in Calgary, hundreds of people will have contributed to its creation.
This philosophy is the same with many coffee roasters these days and this started the third wave of the coffee movement. When we roast our beans we want to create a profile that best expresses the varietal and the region where it was grown. That's both an art and a science. We roast every offering with a custom approach, all with the goal of telling a story in every cup.
Our roasters are always on the leading edge of their trade. They're highly skilled at managing the variables of a roast, producing beans with vibrant aromas and creating the best possible flavour for each coffee.
Skilled baristas are the last important link in this movement. They should be well-trained experts in the art of brewing. They're working with state-of-the-art machinery and a fine eye to detail. In fact, when one of our Analog baristas is standing behind the counter brewing your coffee, you should feel confident that they're making sure this final step is done with all the care, attention and intention shown by each and every person who has cared for the coffee bean since it was planted.
That's how you know that when you're handed a cup of Analog Coffee, you're tasting some of the best coffee in the world. Every time.
– Mario Toneguzzi
Respected business writer Mario Toneguzzi is a veteran Calgary-based journalist who worked for 35 years for the Calgary Herald in various capacities, including 12 years as a senior business writer.
https://calgarysbusiness.ca/business/fratello-coffee-culture-calgary/