Gratitude Journals : The Science of Being Thankful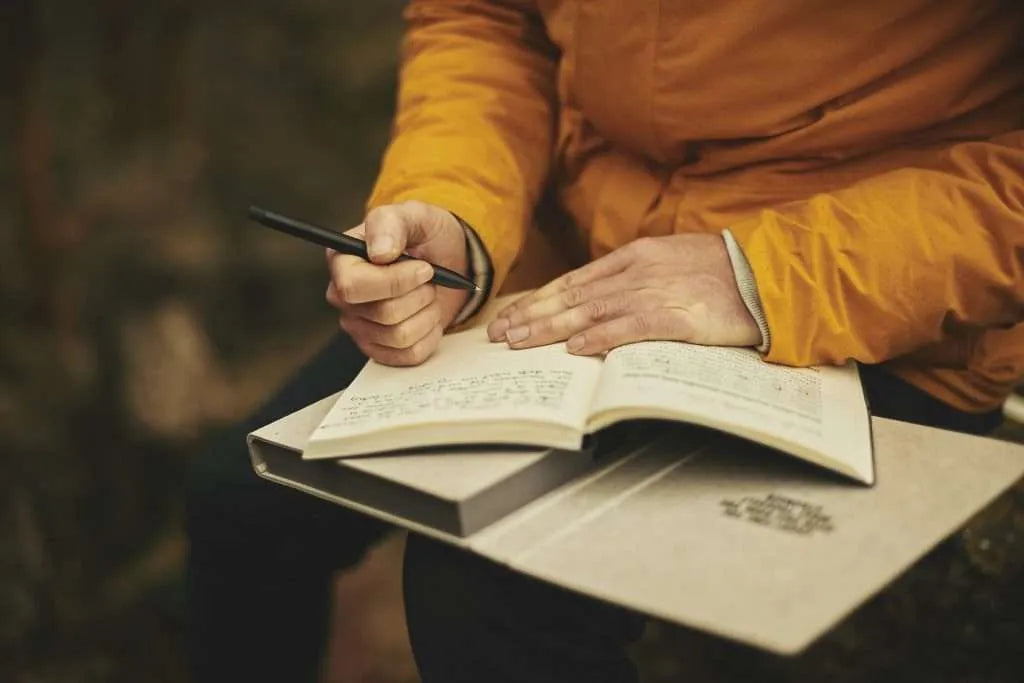 Thanksgiving is a great reminder to be thankful for what we have, but science tells us that gratitude is important year-round. The act of practising gratitude is great for our overall health. Intentionally going out of our way to bring to mind the things we're grateful for helps us stay healthy and happy. Read more for why a Gratitude Journal and being thankful is so important.
Studies show that keeping a gratitude journal can ease depression and anxiety and actually improve your physical health. Neuroscience shows that the brain is a lot more changeable than previously thought, and carrying out practises actually creates new pathways, or "rewires" our brains. (You CAN teach an old dog new tricks!)
In today's day and age, there are constant stressors all around us. Raising kids, full-time work, and excessive screen time can all bring our moods down and make us constantly feel stressed out. Not only does stress affect our quality of life, but studies show it actually makes us sick. Higher levels of cortisol, a stress hormone that upticks when we're feeling stressed, has been linked to cancer and heart disease. Starting a gratitude journal eases a lot of this stress.
Let's take a look at how practising gratitude affects the brain.

Your brain on gratitude
The modern human is not subject to the same stressors as in the past. We no longer have to defend against bears and tigers or hunt and gather to provide food for our families. The modern human still has the fight-or-flight response, but it's triggered by other things. Things like work stress, gridlock, and overdue bills can all get our heart racing and our cortisol flowing.
While danger looks a little different now, humans are hard-wired to look for danger at every turn.
While this may have helped us escape real danger when we were hunter-gatherers, it doesn't serve us anymore. Just because negative, catastrophizing thought patterns are our default, doesn't mean it has to stay that way.
Humans can inject positive thinking into their brains, achieving a state of calm and well-being. The more we introduce positive thoughts into our brains, the more we flex this positivity muscle.
Similar to mindfulness, where we practise focusing on the present to achieve calm, practising gratitude creates equally strong pathways. Check out our post about parental burnout to learn more ways to deal with anxiety and stress.
Practising gratitude has some real benefits and changes our brains in many ways. Gratitude can decrease materialism, help us work through personal problems, fight disease and sickness, and decrease feelings of envy and resentment.

How to practise gratitude
There are various ways that you can practise gratitude, and they all involve a pen and paper.
A common gratitude journal exercise is to name 3 things you're grateful for. Then, elaborate on those 3 things and muse about what life would be like without them. It can be anything from a supportive spouse, to a roof over your head, to your brand new dishwasher.
You can also pick one thing that you're grateful for, and take time to explore why you're grateful for it. Let's take running water, for example. Running water keeps you hydrated, saves you the effort and time of having to fetch it from the lake, allows you to bathe and brush your teeth, and waters your flowers.
While it may sound like child's play, you'll notice a shift in your thinking after a few weeks of doing this consistently.
I don't have time to write a gratitude journal!
It can be hard to justify the practise when you're skeptical of it in the first place. You'll reap the most benefits if you spend about 30 minutes everyday. However, even doing it 5 minutes a day can have a profound effect. When you're first starting out, start small so you can realistically commit to the practise everyday. Deciding when and where you're going to complete your gratitude journal can help you stay committed, too.
If you're a busy parent and your life gets busy in the evening, commit to waking up 5 minutes earlier than usual to complete your journal.
If you plan to do your journal on the train or at your office desk, write in a pocket-sized notebook that's easy to toss in your bag. If you prefer to journal digitally, you can keep a note in your phone, or you can even use a gratitude journal app.
How long do I have to carry on with this practise?
When it comes to mindset work, such as practising gratitude or mindfulness, you should never stop! Think of a gratitude journal like working out or practising an instrument. When you stop working out for a while, you quickly run out of breath when you try to get back into it. Then, you have to play catch-up to get fit again. It's the exact same thing with practising gratitude, and you should aim to stay "fit" your whole life.
It might sound like a drag to have to do this constantly to reap the benefits. But choosing a set time, day of the week, and place to do it will significantly increase your chances of sticking to your routine. It's actually more beneficial to practise it in short bursts over a period of time than it is to binge-practise it for hours all at once. Consistency is key.
You don't have to do it every single day if you don't want to. But if you're giving yourself a rest, make sure you do it consistently. For example, choose Sunday as your rest day instead of randomly taking off-days as you need them.

The greatest gift of all
Sometimes life will present unfair, cruel circumstances. On the other hand, you can have everything you could ever want in the world, and still be unhappy and unfulfilled. Living joyfully doesn't happen by accident or to those who can afford it; it happens to those who are intentional. You have to have the imagination and the diligence to live the life you want.
Let this Thanksgiving be the year you start your gratitude journal, and never look back!
Looking for more health & wellness content? Check out our previous post about drinking turmeric for health benefits.