An Education - Cupping 19 unique micro-lots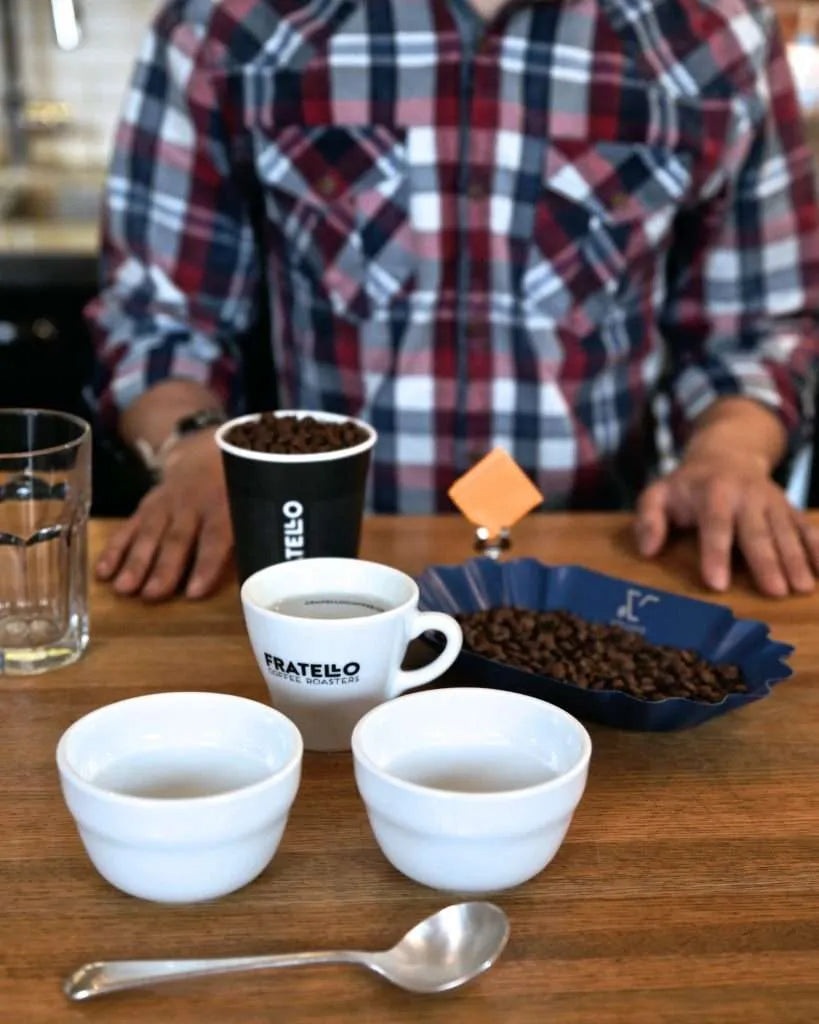 I recently had the please of meeting Ted Buracas of NewContent. Ted Buracas is a writer, photographer, and film maker in Calgary, where he counts coffee as one of his many passions. You can find this article cross posted on the blog, NewContent.ca. Ted got in touch with me as he knew I was going to be in the process of cupping 19 micro-lots from Nicaragua and wanted to join me. Ted had never cupped coffee before but had a good back ground in wine tasting. Needless to say, we had a very fun day talking about many different things relating to coffee and coffee cupping.
Primarily Ted wanted to know why we cup, the purpose of cupping and to educate himself if it really makes a difference in what we do. The below information is taken directly from Ted's blog post:
I'd like to try to address a gnawing question about coffee. If it were only for myself, that would be fine, but if it would also salve your conscience, and help you feel a little bit less guilty for the occasional extravagance, then so much the better, and my job would be done.
The question is this: why would anyone in their right mind spend five bucks for a cup of coffee?
The answer is at once simple but also complicated by a myriad of factors. There is an answer for those who would take some time to consider nuance. And for those who would invest a little effort to understand (or, at the very least, appreciate), I might even be able to to convince.
My own investment comes courtesy of Russ Prefontaine (@FratelloCoffee2) of Fratello Coffee Roasters. We spent four hours today cupping fresh Nicaraguan beans, and deciding which three or four Fratello would offer up for sale this year.
The simple answer is that some simply would not (spend the five bucks, that is). But then again, a four buck flank steak or a ten dollar bottle of red wine does quite well, thank you. And The Olive Garden is good Italian!)
And to be truthful, I am always looking for a drinkable $10 bottle of plonk.
But – and not to be snobbish here – there is a difference between good coffee and bad. And life is simply too short and too precious for coffee (or wine or food) that sucks.
It starts, of course, with the bean. Today we are sampling (cupping, to be precise) 19 different beans. They come from a single estate grower in Nicaragua, who grows several different varietals of Coffea arabica spread out over two different growing regions. They (the beans) are all different, each unique. And it's our job to pick just a few that will be presented to Fratello commercial clients this year.
The first factor, then lays with the choice of the three or four beans that will represent an entire country. Three or four lots out of 19 on the table, from a single grower, a single producer among perhaps thousands. If you don't care about sustainable farming practices, fair trade, pesticides, or shady business dealings (let alone harvesting practices, washing, processing, and drying) then it's easy enough to choose a supplier from a catalog, and purchase from the cozy confines of Calgary in the wintertime.
And we haven't even looked at the roasting process (which for these 19, has been kept controlled and is the same for all).
But garbage in, garbage out, as they say. And as I've said elsewhere, life's too short…
None of these offerings are garbage. Not even close. All of them score 80 or higher, which in the considered opinion of an expert (like Russ) qualify as premium beans. Some are in the high 80s $30 to $40 dollars per retail kilo. 89 was the best score on a Java bean.
To choose from among today's selection will take three or four hours. It's an involved ritual akin to wine tasting. There's lots of sniffing, swirling, stirring, and more sniffing. And then there's the slurp. There is nothing sexy about the process; your nose is deep into the cup, and there is something undignified to the inward slurp.
The sounds involved are… interesting, and slightly off-putting. Not to be done in mixed company, for the self conscious.
But in performing the ritual, you begin to learn, and to appreciate differences. I am led to put words to the nuance I can smell – citrus, dark chocolate, strawberries, paper, among many. And there are others still that I haven't the vocabulary to describe.
But they're there. I smell them, and later, I taste them.
There are some for whom taste and quality does matter, and I am one. This isn't to say that a five dollar cuppa is a daily occurrence for me; I might spring for one a couple times a month. This is an indulgance, but a modest one; there is worse in the coffee world (let's not even consider Kopi Luwak, for instance).
Is worth it? Russ says so: "It's the people with the biggest mouths that can tell the difference."
But when it comes down to final choices, it is about personal preference. There is no garbage here, remember; just preferences based on a qualitative score. It's for the expertise (among other things), borne of 20 years of experience, that you are paying.
Would the average coffee consumer be able to tell the difference between Fratello coffee and, say, a Co-op house brand bean? I honestly don't know, but it's an interesting experiment that I shall try with both sets of my own parents when they come to call.
They say they like coffee.
But even if most would not appreciate the love and dedication that goes into this premium coffee, is it still worth the effort that folks like Russ put into the choice? He says it is: "It's the people with the biggest mouths that can tell the difference."
So just why would you spend five bucks for a cup? One simple reason; it just tastes good.
If you want to try something singularly amazing, drop into the Fratello Analog Cafe at the Calgary Farmer's market. Order a premium drip coffee. It will take some time – nothing is rushed here – but it may well be the best cup of brewed coffee you've ever tasted. It was for me.
———————————
Fratello Coffee Roasters is located at 4021-9th St. S.E., Calgary, where they will sell you fresh beans or brewing paraphernalia, and offer up advice. You might even get a free bevvie. Tell them Teddy sent you.