Matcha Powder - Delicious Caffeine Fix Packaged with Health Benefits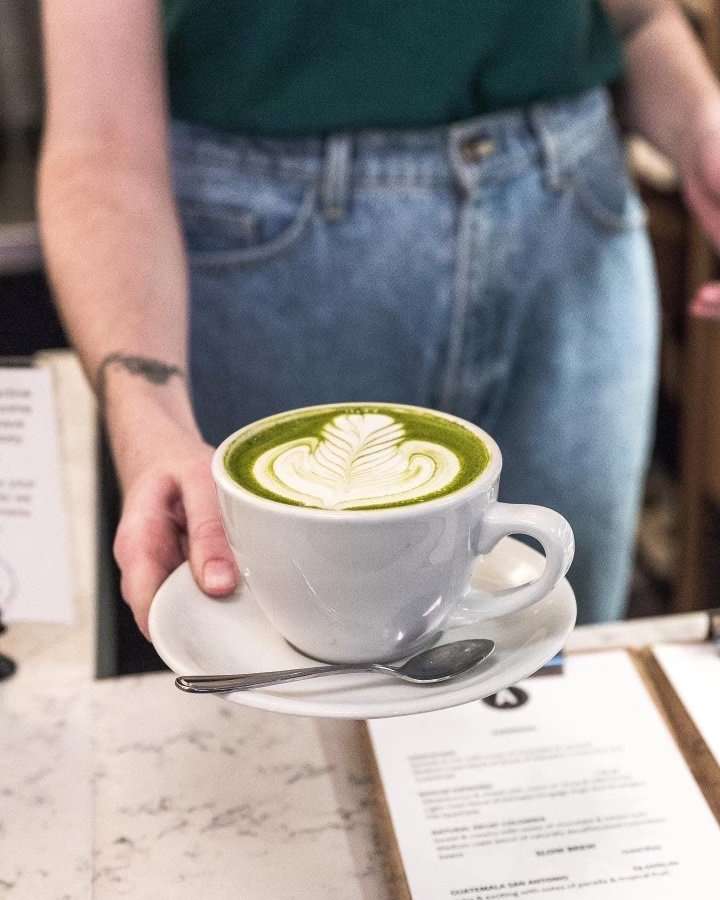 Green Tea Matcha powder is a delicious and healthy caffeinated tea option that's grown in popularity in recent years. Known for its emerald green hue and many health benefits, it makes for a healthy treat or a calming ritual.
Unlike regular varieties of green tea that are steeped, matcha powder is ground into a fine, pale green powder. The powder is then whisked into hot water, making a vibrant green, frothy tea. With matcha, you're drinking the whole tea leaves instead of an infusion.
Many people who complain of jitters and heartburn associated with coffee turn to matcha tea as an occasional substitute. Matcha gives you a sustained caffeine fix that won't give you that signature caffeine crash. Plus, it's loaded with antioxidants that come with several health benefits.
Matcha tea powder is the centrepiece of the traditional tea ceremony in Japan, a tradition spanning over 500 years. The ceremony is centred around mindfulness, relaxation, purity, and simplicity. Matcha can be emblematic of a new habit in your life. It can be part of changing your diet, improving your work-life-balance, or decluttering your home. You can bring the traditional tea ceremony into your own home with a bag of Idle organic matcha powder.
How it's produced
Our Idle matcha tea is made from the Yabukita green tea variety. It is the largest cultivar in Japan due to being frost resistant and yielding a good crop size. It was originally cultivated in 1908 by tea breeder Sugiyama Hikosaburo, and has been the dominant cultivar ever since. The tea leaves are picked young, and a month before harvest, the crop is covered with a dark canopy. This helps retain the nutrients, and enriches the tea leaves with chlorophyll, which gives it that rich dark green colour. The stems and veins of the leaves are removed, and the leaves are stone milled.
Ceremonial vs. culinary grade matcha powder
There are two grades of matcha: ceremonial and culinary. Both are loaded with nutrients, but they differ in terms of their flavour and uses. Culinary matcha is mainly used for lattes or for baking. If had on its own, culinary matcha has a more bitter flavour, and as a result, it's cheaper. Ceremonial matcha is meant to be had on its own, and is used in Japanese tea ceremonies. It has a sweet, grassy flavour, and is a bit pricier. Idle matcha is ceremonial grade.
The origins of matcha powder
The origins of matcha date back to the Tang dynasty in China during the 7th-10th century. Green tea leaves were steamed and formed into bricks, making them easier to transport. Chinese Buddhist monks later brought the tea to Japan. Today, Japan produces the best matcha in the world. Idle matcha tea is made in Nishio, a central region in Japan located southwest of Tokyo.
The Japanese tea ceremony is of huge cultural significance, dating back over 500 years ago and still practised today. The ceremony is always led by a host or a tea master. The room is sparsely decorated, and guests kneel on a tatami mat with good posture. The ceremony is centred around harmony, respect, purity, and tranquillity.
The host always starts by purifying all the utensils with a silk cloth, mainly as a symbolic gesture. Before the tea is prepared, Japanese sweets, called wagashi, are laid out. After this, the host prepares the tea. Hot water is poured into the powder, and the tea is whisked vigorously until frothy. The host uses a chasen, a delicate bamboo whisk made specifically for matcha. Both the host and the guests bow before slowly sipping the tea. The ceremony can take up to 3 hours.

What are the health benefits of matcha?
Green tea in general contains antioxidants, but because matcha powder is the whole leaf, it's loaded with antioxidants. Antioxidants fight free-radicals in the body, and free radicals cause damage to our DNA. Things that trigger free radicals in our bodies include air pollution, radioactive substances, tobacco smoke, and UV rays. Antioxidants undo the effects of these substances. Matcha contains a group of antioxidants called catechins.
Matcha contains EGCG, a type of catechin with several health benefits. Though more studies are needed, there is evidence that EGCG may prevent cancer and slow the rate of tumour growth. In addition, it may lower cholesterol, and speed up metabolism, leading to weight loss.
Matcha also contains L-theanine, an amino acid that promotes alertness and helps avoid crashes. It also reduces stress and triggers relaxation in the brain.
How do I prepare matcha powder at home? Can I make matcha without a whisk?
Matcha is easy to prepare at home, and has many uses. If you don't have a chasen, you can use a regular small whisk. Whisk vigorously to get a frothy texture. If you don't have a small whisk, you can make it with a small spoon–just make sure to mix it very well. We recommend using a teaspoon of hot water, and mixing it well before adding any more hot water.
You can drink matcha on its own for a calming, healthy treat. You can also make a latte by heating up milk or non-dairy and pouring it over the matcha concentrate. In the summer months, iced matcha makes a delicious treat. Just pour the matcha concentrate over ice and your choice of milk.
You can also bake with matcha. Add a teaspoon of matcha powder to pancakes, sugar cookies and cakes for a beautiful pale green hue.
Can matcha powder go bad?
Matcha powder will stay good for a year if left unopened, but after it's opened, we recommend consuming it within a month. After that, the flavour begins to deteriorate.
Need an alternative to your morning coffee? Check out our Idle organic matcha powder, and while you're there, peruse the whole Idle tea collection.