Ethiopian Konga, Wote Cooperative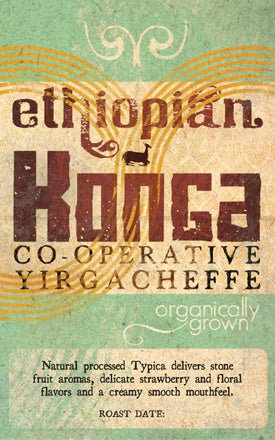 It is not typical of us to introduce 2 coffees from the same growing region at once, but this is something new for us starting this year. We have 2 (soon 3) Costa Rican's and 3 El Salvador offerings coming in the next few weeks. We find it's such a great opportunity for you to discover different flavour characteristics a country has to offer when you are able to taste different farm/cooperative offerings, from the same growing region, side by side.
Before we made this decision, we would often have to decide not to purchase an amazing coffee because we already had an offering negotiated from that region. Well luckily, not anymore. What we have to show you from Ethiopia this year are 2 coffees from Ethiopia's Yirgacheffe growing region. Our first offering is the Ethiopian Top Lot ECX which is a fully washed coffee and we're pairing this with a natural processed Typica from the Wote Cooperative which we are calling Ethiopian Konga.
This coffee is from the Wote Konga Zone of Yirgacheffe. Yirgacheffe is a major town in the central southern Ethiopia, located in the Gedeo Zone of the Southern Nations, Nationalities and Peoples' Region.
This particular coffee is naturally sun-dried on raised drying beds, separating it from some of their other washed varietals. Extra care is taken to select only the ripest/reddest cherries for this project. Careful hand sorting of these cherries happens during the long drying time. This extra care is what makes this coffee so remarkably clean and uniform in the cup.
The very respected Wote Konga Cooperative produces approximately 900 bags of coffee a year from the 600 farmers who grow them. Some other important information about this coffee:
Producer: Wote Konga Region
Varietal: Typica
Process: Full Natural Process
Members: 600 officially registered
Region: Wote Konga, 5km from Yirgacheffe city, Southern part of Ethiopia.
Process method: Sun-dried where the preparation starts from the selection of the cherry, Red cherries are selected and dried with special care.
Altitude above sea level: above 1800-2200 meters
Grown: Organically (although not officially certified)
Screen size: +14
Number of farmers in area: Approx 1,200
Packed in: 60 kilo GrainPro bags