Central America, Direct Trade coffee sourcing trip – An overview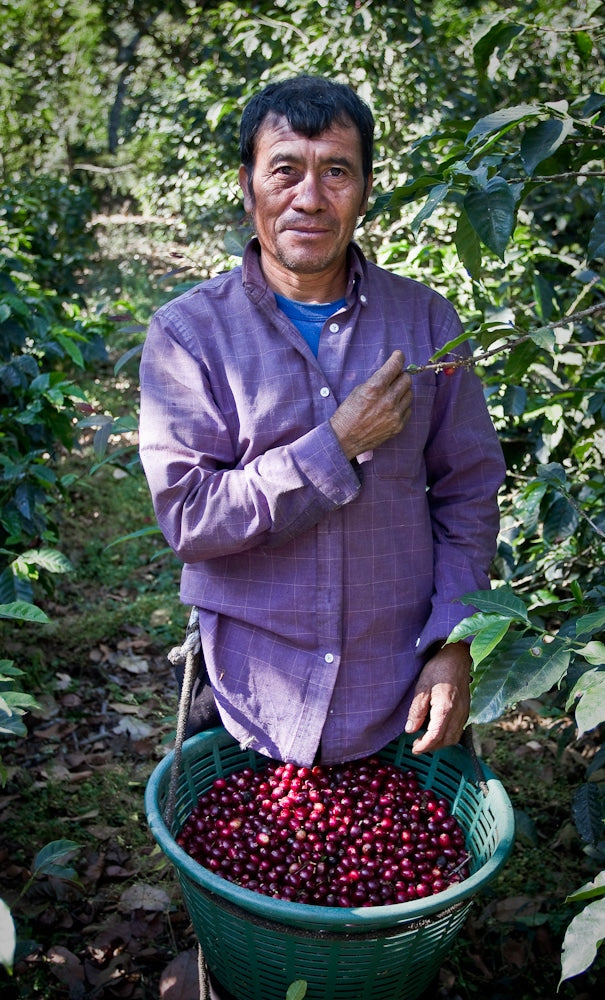 Following this post will be a detailed write up on the new relationships we are forming as well as updates on our current relationships. What I first wanted to communicate was the overall reaction of what we saw in Guatemala, El Salvador and Costa Rica last month.
This is going to be a VERY challenging year for coffee producers. Across all of Central America the average harvest is down 30-50% per farm, in total pounds being produced. This is due primarily to the record-breaking rains falls, which wreaked havoc during the flowering season. When a flower is damaged, a coffee cherry will not grow. On top of this, global demand for top quality coffees is WAY up!! To add fuel to this fire, the fund companies who seem to be in control of the New York Commodity market are pushing the NYC Price of coffee way down putting price pressure on low quality lots reducing the income for farmers even more. This goes to show further evidence that TRUE Direct Trade relationships between coffee producers and roasters is vital for the future sustainability of our businesses. Roasters like Fratello will continue to reward our coffee producing partners for quality coffees, and pay the high prices for green coffee regardless of how low the NYC market is going.
GUATEMALA
The main reason for going to Guatemala was to visit Diego De La Cerda who owns the multi award winning Finca El Socorro & Finca Guabaya who took 1st place in the Cup of Excellence (COE) last year (as well as 2007) and finished in the top ten of the COE in the last 6 years now. These neighboring farms are in the Palencia region of Guatemala. This coming year we are going to be introducing a few new micro-lot options from Guatemala.
We also visited coffee producers in Antigua as well as Florencia. It was nice to visit some smaller coffee producers as typically in Guatemala we have been working with larger producers who are able to produce and separate smaller lots like our Montecristo. Fratello's desire is to work with smaller producers, focusing on micro-lots and micro-regions.
The goal is to have coffees that are unique in cup profile to better showcase what a growing region is capable of doing. This means we will need a broader selection of coffee producers in any given region we are working in.
EL SALVADOR
We then went to El Salvador. This was our first trip to El Salvador and it was truly an eye opening experience. El Salvador might be a new favorite coffee region. The expertise, tradition and focus on quality & experimentation just blew my mind. I tasted plum, pumpkin pie, thick syrupy cup profiles which were new to my palate.
We first traveled to the Tecapa region to visit Gilberto Baraona, the owner of Finca Los Pirineos. At the elevation of 1500 meters, situated between two volcano's is some of the nicest farm land I have been to. Gilberto is growing over 40 different varieties of coffee in the search of the next Geisha. He knows he has some special terroir in his farm, and now needs to find the best varietal of coffee to grow. I guarantee he is going to find it. Gilberto had us taste a few experiments he did with the highest end liquid fertilization he could find. WOW!!! We are going to be taking this Pacamara and it is going to blow your mind!
At Finca Malacara B, who placed #3 and #4 in the Cup of Excellence in 2011, showed me the best example of the original old way of tree pruning called Agobio Para, which translates to "tree bending". Typically producers will "stump" a tree, cutting at the base, to allow for a new coffee tree to sprout. I've been told that a lot of the health, nutrition and character of the coffee tree is in the trunk. Agobio Para treats the trunk like a "spine". The art of Agobio Para is bending the trunk and tying it to the ground. This will allow for many new sprouting coffee trees to grow from a single root system with out damaging the original trunk of the coffee tree. What you end up with are MANY coffee trees, all of different ages, growing from one root. This root will require MUCH more fertilization than a typical root, however, over all you use less per farm. Each tree takes up WAY more space than a normal tree, however, it will produce much more coffee compared to a regular tree. The goal is a more stable harvest, year over year. Its hard to describe, but was truly mind blowing. Why is no other region doing this?
We are trying to secure 3 very unique lots of El Salvador for this coming year. These are extraordinary, award winning coffees….potentially some of the best lots we have ever offered.
COSTA RICA
As always, Costa Rican impresses my with their Micro-Mill revolution which continues to expand and improve. I am seeing better organization, at farm level as well as more dedication to improve quality. These producers have been getting premiums for their coffee for a few years now and are typically re-investing into their mills for efficiency's and consistency.
This year we are going to continue with our relationship with La Cabana and Miguel Rojas and introducing a new producer and micro-mill La Lia. The La Lia coffee is glorious. Its delicate, floral and elegant…..a true stand out coffee on the cupping table. We will potentially have 2 lots from them as well as 2 lots from Miguel Rojas. Miguel has harvested a special micro-lot for us, which is in a very protected micro-region at his farm. The consistency of red cherries on the trees was like something I've never seen. This was a new experiment Miguel was doing with higher quality fertilization. Proof will be in the cup, but I have no doubt that this 15 bag lot will be impressive.
In general we are seeing quality way up, however, quantity way down. This is going to be a big year for Central American coffees out of Fratello. We are going to be really raising the bar on quality and selection in the hopes of continually introducing new/fresh coffee offerings. We know you and your clients are going to appreciate the work that goes into sourcing coffee the way we do.