Devastation Throughout Central America - Roya Leaf Rust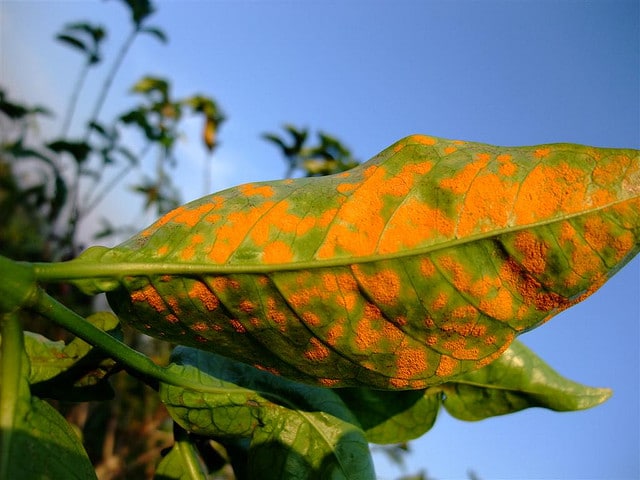 What a terrible time to be a coffee producer in Central America. An aggressive, widespread attack of the coffee-eating roya fungus is causing more damage and devastation throughout Central America's coffee plantations than was expected and is inflicting high costs on producers at a time when international coffee prices have fallen sharply.
Just when you think it looks like coffee producers were beginning to be more profitable in their business's through getting better prices for their coffee, the NY Commodity Market decides to decline sharply. Typically when you see the NYC Market go higher, you have a softening on the differential market. The opposite is then true when you see a down turn in the NYC Market. This is a stressful and risky way for coffee producers to sell coffee.
The differential market varies completely from origin to origin and often reflects quality levels as well as supply and demand with in an origin. The NYC market is a global benchmark for pricing, but does NOT reflect any sort of quality. The NYC Market fluctuates rapidly and has many variables, which make this commodity move. Years ago it was weather, the crop sizes in Brazil and supply & demand which caused the fluctuations, but today the biggest factor in this are the large Fund companies who buy/sell commodities everyday.
Due to Direct Trade, our pricing remains fairly consistent year over year with the coffee producers we work with. We reward them for the quality and care they put into their coffee, typically paying 25-35% more than what Fair Trade would pay them. Through this method of working with coffee producers they are ensured they will be profitable, gives them a secured customer, gives Fratello incredible quality and takes the pressure of the NYC Market away from the producers we work with.
All of this sounds like it gives everyone security; however, what this does not do is protect the coffee trees from environmental conditions which greatly impact the amount of coffee cherries produced each year. What we are seeing this year through out Central America is devastating, and will impact us all for the next 2-4 years.
The Roya, a leaf disease (a fungus also called Leaf Rust) is currently spreading extremely rapidly through all of Central America. The tree killing fungus is affecting the entire area, from Costa Rica to Mexico. For example in Honduras, Central America's largest coffee producer, are talking of a 20% loss in this current crop this current year. All coffee producers were taken by surprise and were unprepared to combat this disease. Now the alarms are sounding!! This year yields throughout Central America are down as much as 30%, but the major impact will come the next 2 to 3 years depending on how well governments assist farmers to combat this disease. Major pruning of all trees, having to replace aging trees with new ones and most important is the requirement to fertilize adequately. It will be a major task requiring serious financial assistance. Today with these low NYC Market prices could potentially be devastating.
El Salvador is predicting coffee yields to be 50% lower next year, and the smallest harvest in 73 years! Guatemala is seeing 40% of their trees infested, Costa Rica is predicting a crop 25% smaller this year and 50% smaller next year. The same news is spreading north and is said to be the same outcomes in Guatemala, Nicaragua and Honduras next year.
Colombia already went through what Central America producers are going through now. Production is recovering 4 years later. The biggest issue in Colombia is that the low NYC prices combined with a strong local currency (compared to the weak US Dollar) is creating a cost of production which is estimated to be 20% to 25% higher than what their current selling prices are. The government is in discussion today with Colombian FNC and key producing states to extend an assistance program.
Meantime, sellers are mostly withdrawn waiting for a better evaluation of crops and also better prices. Coffee exporters at origin are sitting on their inventories waiting for better news before selling. The C market has steadied for now and differentials are beginning to get higher.
The next 2-4 years are going to be a bumpy ride. Roasters are going to have to be aggressive to find and secure the top quality coffee. Fratello Coffee Roasters are hard at work visiting with coffee producers and exporters to ensure we have the most current information and to ensure we have the supply to pass on to our clients.