Why Do I Need a Burr Grinder?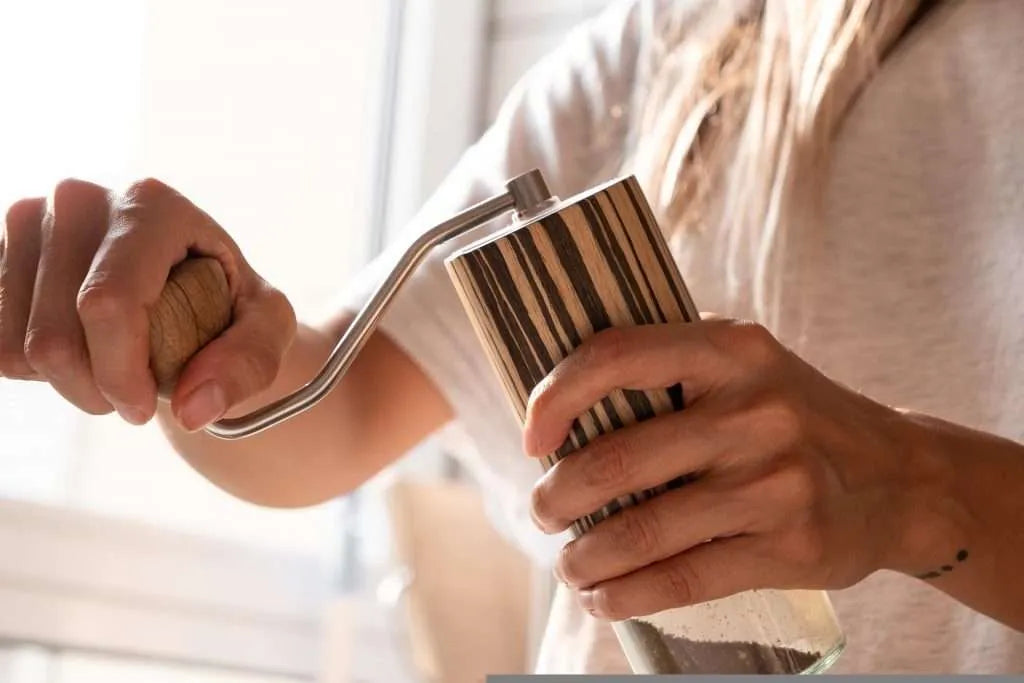 Blade grinders are not the best choice for grinding coffee beans. While they are inexpensive and easy to use, they don't produce the same quality of coffee as burr grinders. So why do I need a burr grinder?
The reason blade grinders do not produce high-quality coffee is because the blades heat up during operation and this causes a burnt taste. Burr grinders, on the other hand, use rotating disks that never get hot enough to cause this burnt taste.
There is only one grinder for coffee, and that's the burr grinder. If your coffee doesn't taste quite right on a burr grinder, at least you have the option of adjusting it. Consistency is everything when it comes to brewing good coffee.
I can't afford a burr grinder! I'm just a poor student.
We get it. Burr grinders can be expensive. But this is an investment, a piece of equipment that'll make tasty coffee for years to come. A decent electric burr grinder ranges in price from $200-$1000. We recommend the Baratza Encore burr grinder as a great entry-level grinder. The conical burrs stay sharp for years with excellent precision. If you're on a smaller budget, the Hario Ceramic Octo Coffee Mill grinder delivers the same quality. The only caveat is that it requires good old-fashioned elbow grease. This is perfect if you only drink one or two cups a day, and as a bonus, it travels well.
If you still don't want to buy a burr grinder, at the very least, ask us to grind it for you, but make sure to use it up quickly. When you order beans online, make sure to tell us what grind setting you want in the checkout notes.

Why are blade grinders bad for coffee?
Here's what blade grinders do to your coffee. They blindly cut it up, resulting in coffee particles of all sizes, from fines to boulders. When you're brewing a particular method, whether it's French press or pour over, you are looking for 1 particle size… not 20!
Blade grinders are particularly bad for pour overs. When you make a pour over with blade ground coffee, you'll get a slow-pouring, clogged filter. The resulting coffee will taste bitter and sour at the same time. And, you won't really get any resounding flavour notes. Just a flat, lifeless cup. Sounds like a waste of effort, doesn't it?
To understand why blade ground coffee is not ideal, you need to understand extraction. Extraction refers to the amount of soluble compounds extracted from coffee in a given time period. Extraction depends on a few factors, namely temperature and grind size. Temperature is easier to control, but grind size needs a lot of attention. The finer the grind, the quicker the extraction time; the coarser the grind, the slower the extraction time. That's why espresso pours in mere seconds and French press takes several minutes. A bitter taste indicates over-extraction, and a sour taste indicates under-extraction.
Now that you see why blade grinders can't create consistency, it's time to retire that sucker. You can clean it out and use it to grind whole spices, or you can donate it to someone else looking to enter the "fresh ground coffee world".
How does a burr grinder work?
A burr grinder is essentially a coffee mill. It "mills" the coffee, much like how a pepper mill creates particles that are uniform in size. On a burr grinder, you can adjust settings from fine to coarse, and every particle will be the same size. You need a uniform grind to achieve even extraction. If your coffee doesn't come out quite right, at least you can adjust your grind and try again. You will notice that this is especially important when brewing espresso. With a blade grinder, you don't have this option–instead, you get what you get.
Are there ways to make good coffee with a blade grinder?
We certainly don't recommend a blade grinder for making pour overs, aeropresses and espresso. However, some coffee methods are more forgiving than others. Immersion methods, like steep & filter and French press, tend to respond better to blade ground coffee. That's because immersion methods eliminate that awful sour, weak taste, which is almost always down to under extraction.
If you're using a blade grinder, grind it on the coarser side, and pause every few seconds to shake it. Immerse the grounds in the hot water for 4-6 minutes. This won't make an incredible coffee, but it'll make it palatable.
What to do with pre-ground coffee
Maybe you've decided that a burr grinder is not in your budget, and you need to rely on pre-ground coffee. In this case, we recommend using up your pre ground coffee as quickly as possible. Ground coffee goes stale very quickly, so try to use it up within a few days maximum. Store it in the bag in a cool, dark place.
Another way to quickly use up pre ground coffee is to make a big batch of cold brew so you can use your coffee up in a timely manner. Once brewed, cold brew stays good for 1-2 weeks in your fridge. This coffee method is deliciously smooth and foolproof, and it makes for a refreshing drink in the summer months. If you're not into cold coffee, you can always heat it up later.

Is a burr grinder a good investment?
If you're the type who drinks 4-6 coffees a day with lots of cream and sugar, you might not notice the difference. But, if you drink coffee more for the flavour than for the caffeine, a burr grinder is a good investment. When it comes to specialty coffee, it doesn't make sense to ruin
it with a blade grinder. Specialty coffee is pricier than other coffees on the market, in part because of the complex flavour. Only a burr grinder will unlock those tasting notes!
Want to put your burr grinder to the test? Check out our foolproof pour over guide!