Costa Rican Coffee buying trip – 2011
At the end of February 2011 we visited our friend Francisco of Exclusive Coffee in San Jose Costa Rica.  Our goal this trip was to re-visit our relationship not only with Exclusive Coffees, but also our current coffee producer Luis who owns the Rio Jorco Micro-mill.  Below is our observation of the Costa Rican coffee growing market, as well as introduction to two great new Micro-Mills coming to Fratello.
To my amazement and delight, our trip started visiting the new offices of Exclusive Coffees.  They moved into a much larger facility with a state of the art cupping lab.  As always the coffees being cupped at Exclusive are roasted to perfection (which is extremely rare when visiting farms/labs at origin) and the selection of coffees for the most part where shining stars on the table.  Costa Rica has many great growing regions, and now has many first class micro-mills in each of these regions.  To keep our palates focused, we only cupped coffees from Tarrazu and the West Valley.  Aside from the cupping facility, Exclusive Coffees has installed their own Dry Mill to assist in the grading, separation and cleaning of the micro-lots being produced by the micro-mills they work with (approximately 100 micro-mills).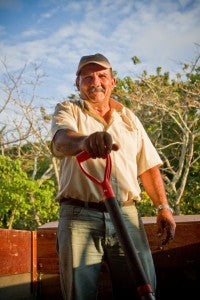 It's no secret that the current pricing in the coffee market is almost at an all time high.  We've seen prices reach $3.00/lb at the New York Commodity Markets this year, the second highest since February 1997.   (more…)