Colombia | Cup of Excellence
I have just returned from Pereira Colombia after judging the 2009 Colombia Cup of Excellence competition.   Although tired, I'm thrilled about this experience.  It is so exciting going through the cupping process and seeing the award ceremony's on the final day.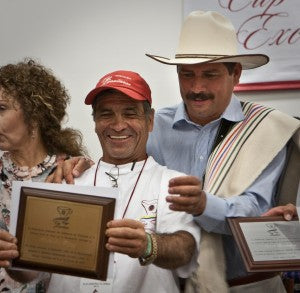 The Cup of Excellence competition is the most thorough and competitive screening process a coffee farm will put their coffee through.  The goal of COE is to bring out the best coffee a current region has to offer in the current crop year.  After the competition is over, the COE award is given to the top farmers who represent the best coffees that this region has to offer.  These coffees are then put in front of the world on an on-line auction which rewards these farmers for their focused attention to improving quality coffee, and puts a spot light on this region show-casing their excellence.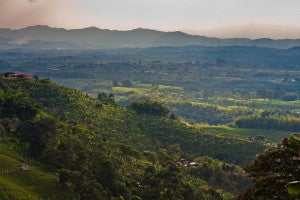 Stage one Involves the submission from the farmers current crop of coffee.  Of the 512,000 families growing coffee in Colombia, only 374 submissions were sent in this year, which was relatively low do to the fact that Colombia's crop forecast is 30-40% lower than the year before.
All of these coffees are cupped and analyzed in Colombia by local cuppers.  All coffee scoring an 84 or higher (out of 100) move on to the second National Cupping jury.  The National Cupping Jury is chosen from the pool of local cuppers.  They are chosen for their cupping skills in the first stage.