Direct Trade Coffee - Costa Rican Tarrazu - Rio Jorco Micro-Mill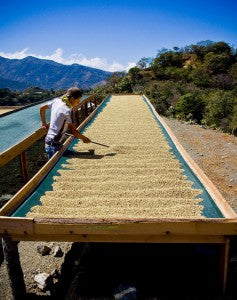 Fratello Coffee is proud to introduce an exclusive new coffee available from the Tarrazu Valley in Costa Rica. Last month, we wrote about a Micro Mill Revolution happening in this region, this is one of those special micro-lots we wrote about.
The Rio Jorco Micro-Mill employees between 4-6 people & has 65 pickers during harvest season. Rio Jorco is situated at an altitude of 4600 feet, and like many farms in Tarrazu faces the Pacific Coast. The strong winds from the Pacific are important as they create a defined dry season. This dryness causes a stress on trees creating extra sweetness in Tarrazu coffees, and especially in the 100% Caturra lots we chose from Rio Jorco.
Rio Jorco which was once known as Hacienda Jorco, is rich in history and has played a key role in the development of excellent coffee within the Tarrazu region. The Rio Jorco Micro-Mill processes all of the coffee from their own estate. unlike in their early historyof 1910, when the coffee had to be taken from Jorco to San Jose using Oxen or on horseback. Though the distance was only 15 miles it was a long trip up winding muddy roads. This required oxen to be changed 2 or three times and a one day trip was considered fast. (more…)