Guatemalan Montecristo - Coffee Buying Trip
We have been buying direct trade coffee since 2013, which means we have years of experience in understanding the best practices in coffee production and purchase. We go to Guatemala once a year to learn more about our producers and their families, to understand their challenges, and to stay up-to-date on their successes
On January 17th my brother's Jason & Chris joined my self to travel to Guatemala to visit our friend Johann Nottebohm and his wife Holly at their farm Nueva Granada.  Our journey began in Guatemala City when we traveled 7.5 hours by car to the far North West corner of Guatemala which is known as the San Marcos region. 
The drive was long, but beautiful as the landscape of Guatemala is very mountainous and boasts 38 volcano's which is the most in all of Central America.   When we reached the town of El Rosario and turned off the highway El Rodeo thinking we reached our destination, however, we had 167 more curves & turns in bumpy rock road before reaching the elevation of 4300 feet, the base of Nueva Granada.  This farm has views Volcano Tajumulco the tallest Central American volcano at 14,440 feet, and Volcano Tacana which is half in Mexico.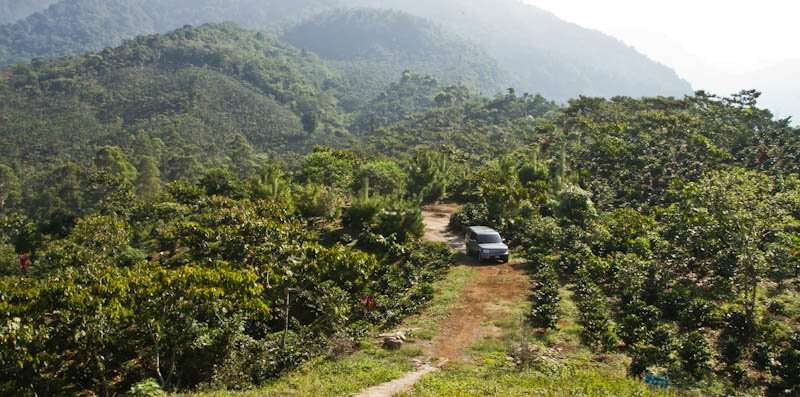 Johann's is now the 3rd generation coffee farmer in the Nottebohm family.  His great grandfather, originally from Germany, moved to Guatemala in 1894.   Nueva Granda was the 3rd farm in Guatemala to become Rainforest Alliance certified, and their family tradition continues today of striving for better quality, consistency, improving environmental techniques and educating the families that live on their farm.
The pride in this farm is shown on every level.  It starts by watching their team pick only the ripest red cherries.  Every 2 weeks, each tree will have hands sort through their branches choosing the best coffee, for a total of 15 passes per harvest!  Most farms will only have 4 or 5 passes per harvest forcing them to choose over & under ripen cherries each time.
Once picked, cherries are brought immediately to the wet mill located on the farm.  (more…)