Rwanda COOPAC - Fair Trade Coffee
Fratello has a new coffee from Rwanda which we are excited to introduce.  We have been hoping to roast a coffee from Rwanda for a few years now; however, every sample we would receive would never delight us in a way that would make us want to offer it to you.  Often after careful analyzation we would find off flavors or defects which would make it impossible for us to stand behind that coffee.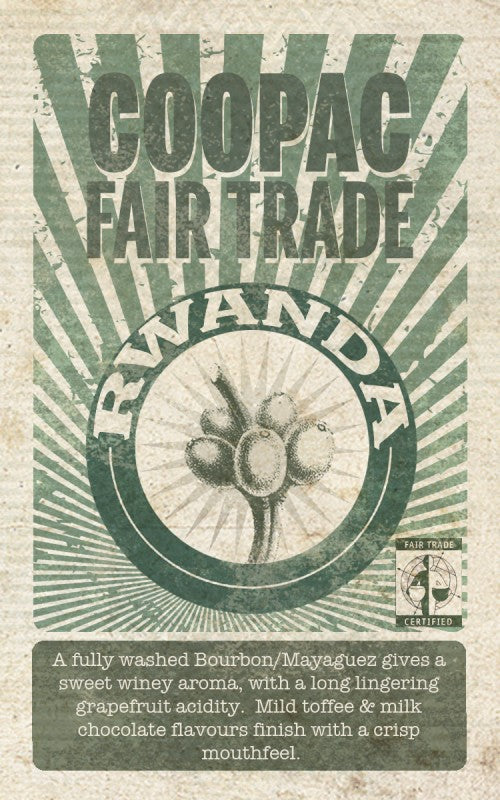 Rwanda COOPAC Fair Trade gives you a sweet whiney aroma, with a long lingering grapefruit acidity.  Mild toffee & milk chocolate flavours finish with a crisp mouthfeel.   This is a Fully Washed process coffee which mixes the varietals Bourbon and Mayaguez which were grown at an elevation of 1500-2000 meters in the Rutsiro & Rubava Districts in the Western Province near Gisenyi.
COOPAC is a fair trade certified cooperative located near Lake Kivu on the steep slopes of volcanic mountains.  COOPAC began with 110 farmers in 2001 and today has over 2,200 members.  This cooperative owns a washing station situated near Gisenyi along the shores of Lake Kivu.
COOPAC is committed to environmental and social sustainability in addition to producing high quality coffee.  Waste by-products from processing are used as fertilizer rather than discarded into the lake, and shade trees are distributed to farmers to prevent soil erosion.  COOPAC has assisted in the construction of a school, health-care clinics, roads and bridges in the community.  The cooperative also has a program to distribute cows and goats to the most productive farmers and provides farmers with an agricultural advisor to teach the latest production methods.
Now this is a coffee & cooperative we can stand behind!   I trust you will enjoy this cup as much as we do.  To try this coffee, order it here.