Nicaraguan Coffee buying trip - 2011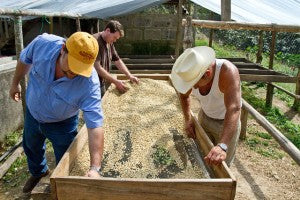 We have successfully completed another buying trip in Nicaragua and this year we have done something a little different. We are still working with Erwin Miersch and his family who have farms in both Jinotega and Matagalpa, but for the first time we aren't focusing on just a single lot of coffee. Instead we wanted to taste coffees and approach this up coming year with a variety of Estates, processes and varietals. This is going to be a fun & exciting year filled with selection.
It is always rewarding when you visit a farm you have a relationship with and notice improvements in their processing. This year the Miersch family has been very busy re-doing all of their wet mills (which are located on every farm, 7 in total) with custom made de-pulping machines. These machines are very similar to the "Colombian" style de-pulpers which use 1/40th the amount of water of traditional wet milling equipment. This is obviously great, but the best part about them to me is the ability to customize the amount of mucilage you leave on the beans when doing Honey Prep (yellow or red), also known as Pulped Naturals.
As soon as we saw the honey coffee drying in the sun at the Don Esteban dry mill in Matagalpa you could see the difference. Thick mucilage was on the beans, which gave a red look to them (Red Honey prep). We have purchased this coffee in the past, and chose to again this year. The sugars found in this type of mucilage create a sweet full body which you will notice when tasting this coffee.
The other big change I noticed was an improvement in the dry-mill. A new addition of a color scanner which aids in removing any beans that are damaged or off colored. This is used together with a screening system, an Oliver density sorter as well as hand sorting tables.
After 4 days in Nicaragua we are coming away with stronger relationships as well as 4 new lots of coffee we will be offering you. This June we will have a:
100% Caturra Honey Prep from Los Placeres
Fully washed Caturra from Mama Mina Estate
Fully washed Red Pacamara from Limoncillo Estate
Full Natural Java also from Limoncillo Estate.
I guarantee you this are going to knock your socks off! To view more photos of this trip, click here.