Happy Holidays from Fratello Coffee Roasters! We love enjoying great coffee all year round here at Fratello, and hope you do to. At Christmas time why not pay special attention to the coffee lover on your list (that is usually most people on the list) and treat them to some great gift ideas from Fratello.
Here is our list for you. Lots of great coffee, some popular and really neat by-the-cup brew methods and tools for the home or professional Barista are all great options! Any questions call or email us and we would love to help.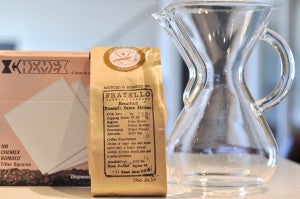 Chemex and Cup of Excellence Promotion:
From Dec 4th-Dec 31st Fratello has a fantastic coffee brewing package for the coffee lover on your list, or for you!
6 Cup Glass Chemex, package of 100 Chemex filters and an 8oz bag of our Cup of Excellence Brazilian Fazenda Santa Helena coffee for $70.00. Buy it here or call us if you are local to come pick up at Fratello. Separately this is worth $85.00!
Check out this Chemex video for a "how to" on this fantastic brew method!
Give the gift of great coffee:
Sure a bottle of wine is the customary host gift during the holiday season, but why not give a bag of coffee this season! Amazing Espresso blends, top tier single origin coffee and Cup of Excellence selections are all in store for you! Come in and see us or place your order online with us.
Tools for the home or professional Barista: 10% off from Dec 4th-Dec 31st
Fratello has a great selection of espresso tampers, milk steaming pitchers, cleaning solutions and knock boxes for the home espresso enthusiest or the professional Barista alike! If you are looking for that particular product give us a call or come in to see us! We don't have these items online, but would be happy to help you choose.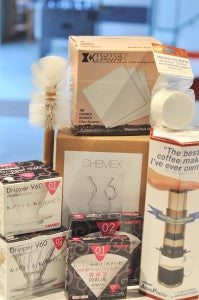 By-the-cup brewers: Coffee enthusisits are really turing to by-the-cup brewers to bring out the full flavor potential of amazing coffee. Fratello has a great selection of the home brewers your coffee enthusist is asking for! Don't forget to pick up some coffee as well with the brewer. We would love to brew you a cup of coffee with the Aeropress, Chemex or Hario V60. If you are in Calgary come see us at Fratello and ask for a coffee!
Happy Holidays from Fratello! Enjoy your coffee and enjoy your time with family and friends this season. We look forward to helping find that perfect gift!